In Chandni Chowk, Omaxe Chowk is a well-known shopping district that regularly draws a wide variety of national and international businesses. The mall's fast-growing inventory recently received a new retail brand. 
To gain market share in Chandni Chowk, the women's ethnic brand Odhni has rented almost 30,000 square feet in Omaxe Chandni Chowk. Customers looking for wedding and festive clothes at the Chandni Chowk market are likely to be drawn to Odhni by its wide selection of ethnic clothing, offering an unrivaled shopping experience.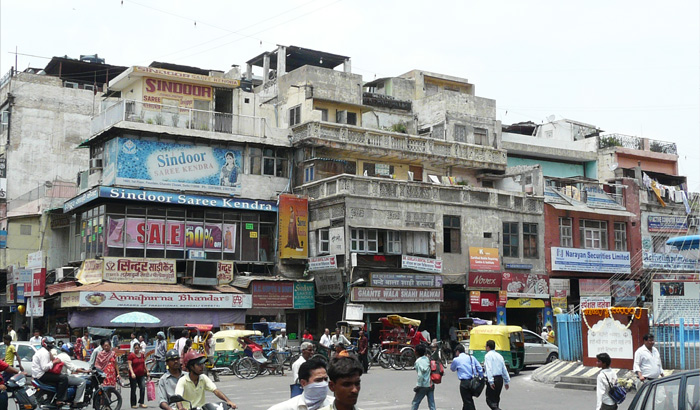 Omaxe Chowk is a multi-level parking/commercial complex that is growing as a business hub and retail destination for brands and merchants around the country, with a predicted daily footfall of 4–6 lakh visitors. The mall aims to offer a specialized and improved shopping experience while concentrating on creating a B2B and B2C ecosystem.
At Omaxe Chandni Chowk, you may find a variety of traditional and modern retail alternatives. It brings together cutting-edge facilities and services with the appeal of Chandni Chowk's beautiful alleyways and bustling bazaars. The project's goal is to provide customers with an easy shopping experience while preserving the unique architectural and cultural history of the area. By offering a range of traditional and modern retail alternatives, as well as cuisine, entertainment, and practical amenities, it hopes to appeal to a broad range of shoppers.
Highlighting the unique blend of tradition and modernity
One of Omaxe Chandni Chowk's most attractive qualities as a retail destination is its particular blend of heritage and modernity. The project intends to maintain Chandni Chowk's cultural and historical history while also delivering contemporary infrastructure and amenities. The project offers a convenient shopping experience reminiscent of Chandni Chowk's crammed lanes and packed bazaars. Tourists can thoroughly immerse themselves in the area's rich cultural heritage by stopping by traditional clothes boutiques, jewelry shops, and handicraft businesses. 
Chandni Chowk Omaxe Mall creates a distinctive retail location that appeals to both locals and tourists by retaining Chandni Chowk's ancient splendor while combining modern comforts and goods. It provides the perfect combination of tradition and innovation, providing guests with an engaging and educational experience.
An exciting and immersive shopping experience is produced by the distinctive fusion of tradition and modernity. It provides a harmonious fusion of conventional workmanship, cultural encounters, and contemporary retail comforts. A wide range of visitors is drawn to this integration because it gives them a distinctive shopping experience that respects and honors both the past and the present.
Omaxe Chandni Chowk: Bridging the Gap between Tradition and Modernity
Omaxe Chandni Chowk is an amazing project that expertly blends tradition and contemporary while providing a unique and enticing shopping environment. The project successfully integrates classic and contemporary retail offers. Visitors can peruse a wide range of traditional enterprises, like apparel boutiques, jewelry shops, and handicraft outlets, that illustrate Chandni Chowk's lively cultural legacy. A modern shopping experience that satisfies changing consumer expectations is offered by contemporary chandni chowk Omaxe Mall which carries well-known local, national, and international brands.
Omaxe Chandni Chowk stands out as a distinctive shopping district that expertly mixes traditional and modern. The rich cultural past of Chandni Chowk is preserved and protected while being integrated with contemporary infrastructure, a variety of shopping alternatives, and entertainment venues. It's crucial to preserve the area's rich tradition.
This connection between the past and present provides visitors with an immersive experience that enables them to understand the region's cultural significance while also taking advantage of modern conveniences.
Omaxe Chandni Chowk's distinctive fusion of Tradition and Modernity
An excellent illustration of how tradition and modernity can coexist is Chandni Chowk Omaxe Mall. Omaxe Chandni Chowk provides a breathtaking atmosphere that respects traditional beauty and embraces contemporary aesthetics by deftly fusing antique and modern architectural elements. 
The project's upgraded services and infrastructure will improve the shopping experience. Visitors may anticipate viewing large boutiques, professionally decorated interiors, cozy dining establishments, and plenty of parking. Omaxe Chandni Chowk is a fascinating location to shop since it serves as a striking illustration of how ancient and modern structures can coexist. The project's upgraded services and infrastructure will improve the shopping experience. It provides visitors with an interesting and instructive experience while preserving Chandni Chowk's historical relevance and cultural legacy. There are also contemporary amenities, a variety of retail selections, and entertainment possibilities.
Encouraging visitors to come and experience the delights of retail
Chandni Chowk Omaxe Mall is ideal for every type of shopper. You can travel back in time to observe the traditions and tales that have shaped the city's identity because of the historical beauty and recently restored structures in the area.
Try your utmost to bring tradition and contemporary together. Omaxe Chandni Chowk is home to a large number of modern retail stores that carry well-known national, American, and worldwide brands. Discover the latest developments in technology, fashion, and lifestyle in a modern atmosphere.
A great experience that combines the traditional and the modern is offered at Omaxe Chandni Chowk. Talk to the locals, take part in exciting cultural events, and take pictures in front of old buildings to leave a memorable impression. Discover a gastronomic adventure that will pique your interest. As you consume local cuisine and street food, experience Delhi's flavor. Allow the scents to carry you away to a world of delicious delight.