The spectacular architectural marvel Omaxe Chandni Chowk, which deftly blends modern comforts with Chandni Chowk's alluring antique legacy, is located in Chandni Chowk, one of Delhi's oldest and largest markets. One of Delhi's busiest and oldest markets, Omaxe Chandni Chowk is a stunning architectural marvel that skillfully combines contemporary conveniences with Chandni Chowk's rich historical legacy. Visitors have a one-of-a-kind chance to immerse themselves in the rich history while enjoying a trip to this renowned shopping destination. When looking for the best commercial property in Delhi, surely Omaxe will be on your checklist. 
There are different malls in Chandni Chowk, but the architectural marvels that make Omaxe Chandni Chowk a must-visit location for both history buffs and shopaholics will be thoroughly examined in this blog post.
First, The Grand Facade: A Doorway to the Past
1. Restoring the Glorious Mughal Era Through Architecture and Design
At Omaxe Chandni Chowk, a massive building provides an impressive entrance to the past. The intricate decorations, arches, and domes pay homage to the wealthy Mughal period, which was a time of unmatched splendour. Visitors are transported back in time and given a taste of the splendour and brilliance of past periods by the architectural elements.
2. Finesse in Carving and Ornamentation
What gives Omaxe Chandni Chowk its grandeur are the intricate decorations and sculptures that make up the area. Achieved talent from the past is displayed in every notch, which is amplified with exquisite craftsmanship. The intricate architectural details, which include elaborate jali work and mesmerizing murals, capture the attention of visitors and inspire awe and amazement.
3. Combination of traditional and modern elements for aesthetic purposes
Omaxe Mall in Chandni Chowk expertly integrates traditional and modern elements while honouring the area's rich history. The structure deftly blends modern comforts with the classic grandeur of Chandni Chowk. It is bringing together the old and contemporary results in a seamless integration that meets the demands of current consumers without sacrificing the location's cultural identity.
Also Read: The 5 Reasons Why Omaxe Chandni Chowk is the Best Choice for Your Business
A Shopper's Delight: The Heritage Bazaar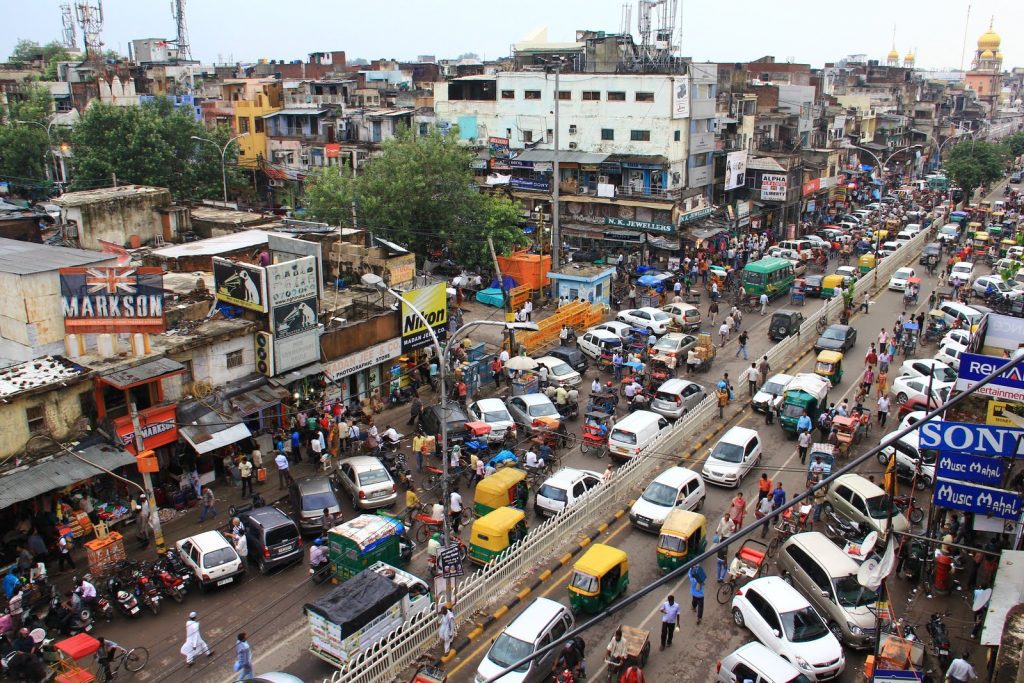 1. Stunning Retail Spaces: Combining the Traditional and the Modern
At Omaxe Chandni Chowk, lovely retail spaces are offered that expertly combine traditional and modern design elements. A broad variety of shops and boutiques are available for customers to visit, offering items including jewellery, clothing, traditional crafts, and more. An enjoyable shopping experience is made possible by the thoughtfully designed spaces.
2. Specialty Stores and Boutiques: Embracing Authenticity
Luxury retailers and speciality stores can be found at a mall near Chandni Chowk, which embraces authenticity. Unique handmade objects that showcase the area's rich cultural history are offered in these stores. Visitors could come across one-of-a-kind artefacts and traditional clothes that celebrate India's artistic heritage.
3. Handloom Revival and Artisanal Crafts 
The history of handlooms and the resurgence of craft skills are two things that Omaxe Mall in Chandni Chowk takes great pride in. The market is a haven for individuals who enjoy handcrafted textiles, ceramics, woodwork, and other native goods. By assisting these crafters, Omaxe Chandni Chowk ensures that its past remains while also helping to restore and maintain historical workmanship.
Also Read: Omaxe Chowk: The Trendiest Hub for Shopping and Dining
The Food Court: Savoring Culinary Heritage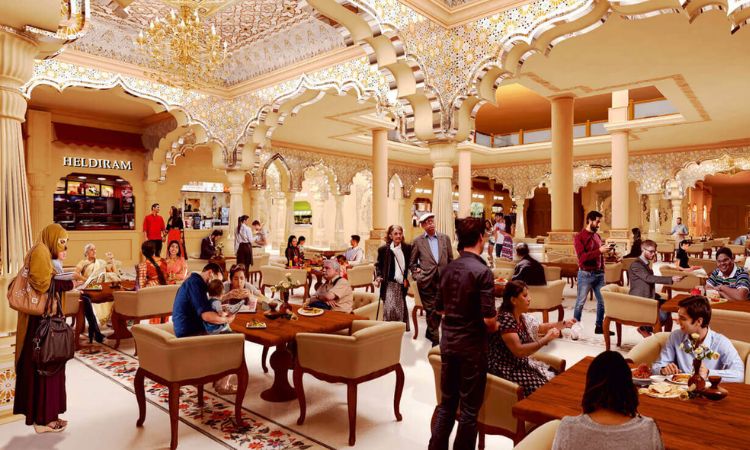 1. Local Flavors and Global Cuisine: Gastronomic Delights
A large selection of delicious delicacies is available to tickle the taste buds at the Omaxe Chandni Chowk food court. Visitors can enjoy regional flavours that have been handed down through the ages as well as cuisine from throughout the world. A wide spectrum of palates will be satisfied by the culinary options, which include tasty street food and dining. 
2. Street Food Extravaganza with Mughlai Cuisine 
With its wonderful Mughlai food, Omaxe pays homage to Delhi's culinary heritage. Biryanis, curries, and kebabs that are tantalizing and reminiscent of the city's regal past are available for tourists to enjoy. These crowded food vendors offer a wide variety of flavours in addition to delivering crowd-pleasing street food favourites like parathas, chaat, and jalebis.
3.
Fusion Dining: A Contemporary Take on Classic Dishes
Fusion dining establishments can be found in malls near Chandni Chowk and cater to modern tastes by fusing traditional dishes with cutting-edge cooking techniques. Modernizing time-honoured recipes with regional flavours and global inspirations is a speciality of these cutting-edge restaurants. By embarking on a culinary journey, tourists can experience the evolution of Indian cuisine.
Also Read: Chandni Chowk and Its Food Tales
A Calm Oasis, The Courtyard
1. The Serenity in the Chaos of Mughal Garden Architecture
The Omaxe Chandni Chowk courtyard is a prime example of Mughal garden design's tranquillity and peace. A calm haven away from the bustling market, the courtyard welcomes visitors. Visitors are encouraged to relax and rejuvenate in the serene ambience generated by the lush flora, fountains, and well-designed landscapes.
2. Fountain of Joy: Cultural Shows and Entertainment
Both entertainment and cultural events are held in the courtyard. The distinct cultural legacy of Delhi is showcased for tourists to enjoy through live music, dancing performances, and traditional paintings. Omaxe Chandni Chowk's immersion experience is heightened when the fountain area turns into a hive of joy and celebration.
Refreshing Breaks from Shopping: Relaxation Zones After a day of shopping, Chandni Chowk understands the importance of some downtime. Inside the courtyard, thoughtfully placed seating areas provide comfortable areas for guests to unwind, enjoy drinks, and soak up the ambience. These locations offer much-needed rest, resulting in a complete and enjoyable experience.
The Rooftop Terrace, which offers breathtaking views and entertainment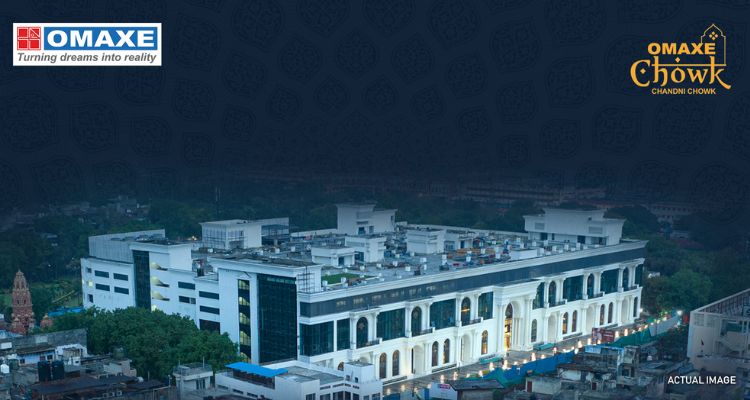 1. A Magnificent Cityscape Overlooking Old Delhi
Visitors can marvel at the spectacular vista of Old Delhi from the rooftop patio at Omaxe Chandni Chowk. From one location, visitors can take in the city's architectural marvels and historic sites while also enjoying some peace and learning about the city's fascinating history.
2. Lounges & Cafes on Rooftops: Unwind and Enjoy the View
One may unwind while seeing Chandni Chowk's bustling scene from rooftop lounges and cafés. While enjoying their preferred libations and nibbles, visitors may take in the sights and sounds of the busy market below. These locations offer just the right amount of relaxation and immersion.
3. Festivals and events of a cultural nature
There are frequent festivals and cultural events held on the rooftop patio. The atmosphere of Delhi's cultural festivals can be experienced by visitors by attending festive gatherings and live performances set against the captivating city skyline. These interactions raise the adrenaline factor and produce priceless memories.
Technological Advances That Improve the Shopping Experience
1. Systems for smart parking and navigation
Smart parking and navigational devices are used at Omaxe Mall in Chandni Chowk to make shopping easier. It is simple for visitors to find parking places and find their way through the complex, guaranteeing a hassle-free visit. The convenience and efficiency of this technology-driven strategy are improved.
2. Interactive exhibits and virtual heritage walks using augmented reality
Virtual heritage tours and interactive exhibits are two of Omaxe Chandni Chowk's augmented reality features that educate tourists about the historical significance of the market. By discovering the stories behind the architecture, cultural practices, and identifiable monuments through immersive experiences, tourists may have a deeper understanding of and respect for these elements of the built environment.
3. Cashless and Contactless Transactions
In keeping with the quickly evolving digital world, Omaxe Chandni Chowk accepts contactless payments. Customers have access to mobile wallets, credit cards, and other forms of electronic payment, which provides a simple and secure purchasing experience.
Conclusion
Omaxe Chandni Chowk is an outstanding illustration of how skilled architects can combine old-world splendour with contemporary conveniences. Visitors are astounded by the exquisite carvings, threatening look, and harmonious synthesis of ancient and new elements in this architectural marvel.
Technology upgrades, the courtyard, the food court, and the rooftop patio all enhance the whole experience. Along with being a shopping paradise, touring Omaxe Chandni Chowk gives visitors the ability to thoroughly immerse themselves in Delhi's rich historical and cultural heritage. Whether you're a history enthusiast or just want to shop, Omaxe in Chandni Chowk guarantees to take you on a fascinating journey through luxury and time.  It is a location that genuinely enthrals and excites tourists, encouraging them to take in the glory of the past while embracing it. To buy the best commercial property in Delhi, get in touch with Omaxe Group today!