Omaxe Chandni Chowk, a well-known luxury shopping area situated away in the heart of Old Delhi, masterfully melds the opulence of contemporary shopping with the illustrious past and significant cultural significance of its surroundings. It is now seen as a representation of contemporary luxury in a place with a rich past.Chandni Chowk, a historic neighborhood in Delhi, is very significant and connected to the city's past. It has been a hub of commerce, trade, and intercultural interaction. Because it perfectly portrays the splendor and vivacity of Old Delhi's architecture, Chandni Chowk is a well-loved landmark.
Omaxe Chandni Chowk strives to conserve and develop Old Delhi Chandni Chowk's rich historical and cultural history via its luxury retail endeavors. Let's examine how this special location honors the past while providing guests with a transformational shopping experience.
The Legacy of Chandni Chowk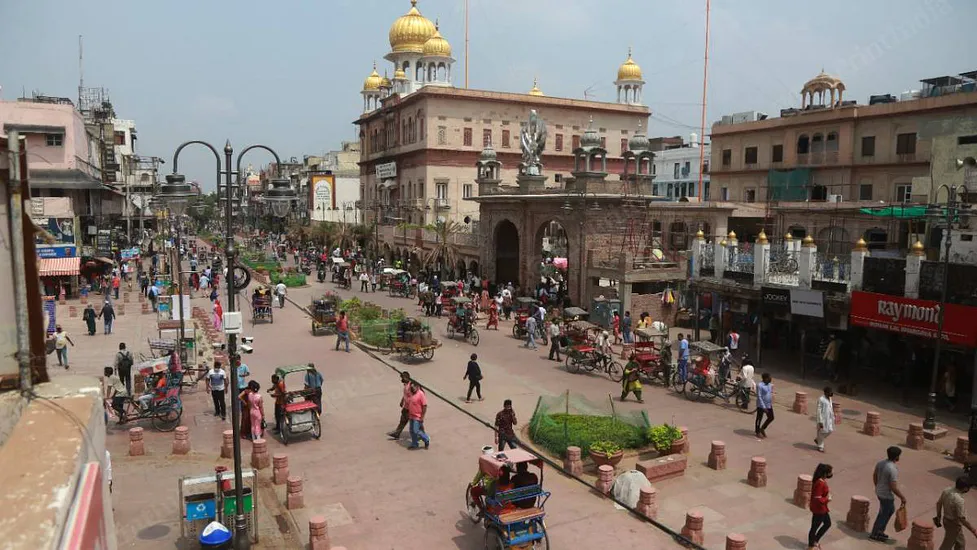 Explores the rich history and cultural heritage of Chandni Chowk
The historical and cultural legacy of Chandni Chowk is fascinating. The market, which functioned as the economic hub for the newly constructed capital city of Shahjahanabad (now Old Delhi), was created by his daughter, Princess Jahanara Begum.
Its significance is one of the oldest and busiest markets in Delhi
As one of Delhi's oldest and busiest markets, Chandni Chowk has a prominent position. It has prospered as a thriving center of trade and business throughout the ages. Market participants have seen the emergence and dissolution of empires, the entry of colonial powers, and the ensuing battle for freedom. Chandni Chowk has managed to maintain its historical relevance and attractiveness despite the changes that time has brought.
The traditional businesses and crafts that have thrived in Chandni Chowk for centuries
The ancient enterprises and crafts that have grown inside the busy alleyways of Chandni Chowk are well known. Skilled artisans and craftsmen have found refuge in the market, where they have been able to preserve and pass on age-old methods. Textiles, jewelry, spices, street food, and other industries thrive there. With its winding alleyways lined with merchants selling mouthwatering street food, Chandni Chowk is a food lover's heaven. The market is a gastronomic heaven that tantalizes the taste senses, offering everything from delicious chaat to the well-known parathas of Paranthe Wali Gali.
The Transformation of Omaxe Chandni Chowk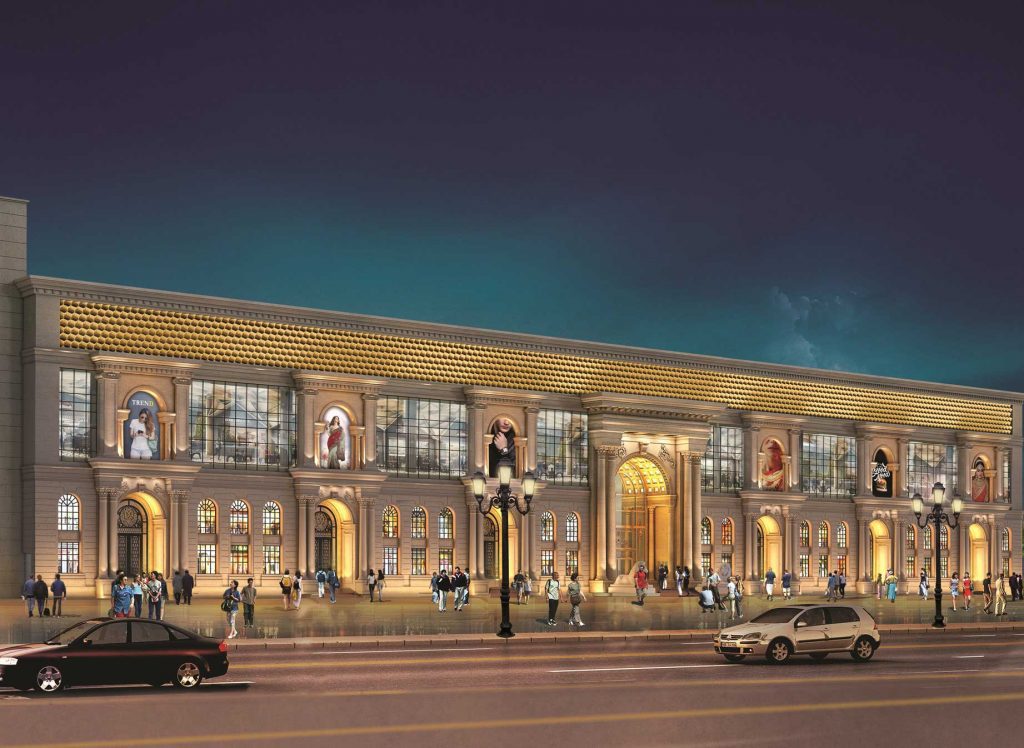 Omaxe Group and its vision for the project
The Omaxe Group, a well-known Indian real estate developer, began work on the Omaxe Chandni Chowk project with the goal of creating a revolutionary retail location that honours the traditional allure of Old Delhi. The company understood the need of retaining Chandni Chowk's character while combining contemporary conveniences and upscale shopping opportunities.
How Omaxe Chandni Chowk aims to preserve the historical charm while offering a modern luxury retail experience.
Omaxe Chandni Chowk was created to achieve a fine balance between maintaining the market's traditional allure and providing a cutting-edge, upscale shopping experience. In order to accommodate customers' changing preferences, the concept strives to smoothly combine the attraction of the ancient world with modern components. It makes that Chandni Chowk's distinctive personality and architectural legacy are preserved.
The architectural design and features that reflect the essence of Old Delhi
Omaxe Chandni Chowk's architectural style captures the spirit of Old Delhi. The facades, which include elaborate patterns, arches, and domes, are modelled after Mughal and conventional Indian architecture. The designers have carefully included features that complement Chandni Chowk's old buildings and atmosphere. This focus on the little things contributes to the immersive experience that takes tourists back in time.
Luxury Retail Experience at Omaxe Chandni Chowk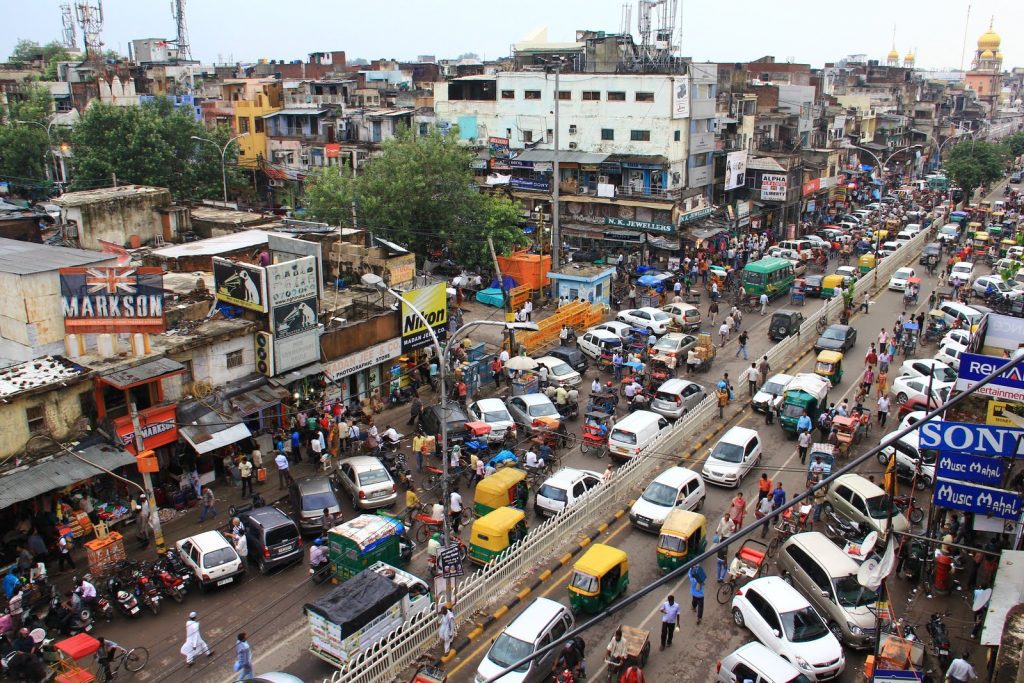 Explore the diverse range of luxury retail brands and stores present at Omaxe Chandni Chowk
A wide variety of upscale retailers and shops that cater to various interests and preferences are available at Omaxe Chandni Chowk. The location has well-known national and international brands, providing customers with a wide range of alternatives. Omaxe Chandni Chowk offers a full range of luxury shopping experiences, from high-end fashion labels to upscale jewelry shops and lifestyle companies.
How these brands blend contemporary fashion trends with traditional craftsmanship
These high-end retailers at Omaxe Mall in Chandni chowk expertly combine modern design trends with age-old workmanship. Many of the companies work with neighborhood Chandni Chowk craftsmen to incorporate their talents and methods into their products. Modern aesthetics and traditional workmanship are combined to produce one-of-a-kind, magnificent goods that honor the region's rich past.
The unique shopping experience that combines luxury, heritage, and culture
The Omaxe Chandni Chowk shopping experience is genuinely unique, fusing elegance, tradition, and culture. Visitors may stroll through the bustling market alleyways, take in the stunning architecture, and converse with regional craftspeople. The location goes beyond being a simple store area and turns into a portal for exploring Old Delhi's rich cultural tapestry.  Omaxe Chandni Chowk serves as a platform to highlight the history of Old Delhi in addition to reviving the shopping experience. It safeguards and honours old crafts, demonstrates the skill of regional artists, and offers customers a distinctive fusion of luxury and history. 
Reviving Old Delhi's Cultural Traditions
How Omaxe Chandni Chowk supports and promotes traditional businesses and artisans
Omaxe Chandni Chowk is essential in fostering and nurturing traditional companies and craftspeople. The concept deliberately creates a platform for neighbourhood businesses to flourish while also acknowledging the value of conserving Chandni Chowk's cultural legacy. It works together with traditional craftsmen and artisans to provide them the chance to display their abilities and goods in the opulent retail setting.
Initiatives are taken to preserve and revive traditional crafts like zari work, handloom, jewelry-making, etc.
Omaxe Chandni Chowk has taken steps to protect and revitalize the traditional crafts that have been a vital component of the cultural fabric of Chandni Chowk. This comprises arts and crafts including jewelry making, handloom weaving, and zari work. The initiative offers seminars and training courses to artists, assisting them in honing their skills and adjusting to shifting market trends while maintaining the integrity of their work.
Explore the role of Omaxe Chandni Chowk in promoting cultural events and festivals of Old Delhi
The promotion of Old Delhi's festivals and cultural events is greatly aided by Omaxe Mall in Chandni chowk. During the holiday seasons, the complex transforms into a hive of activity, featuring traditional events, art exhibits, and cultural performances. Omaxe Chandni Chowk helps to preserve and celebrate the cultural heritage of Old Delhi by enthusiastically participating in and promoting these cultural events.
Impact on the Local Economy
Discuss the positive impact of Omaxe Chandni Chowk on the local economy and job creation
The construction of Omaxe Mall in Chandni chowk had a beneficial effect on the neighborhood's economy, resulting in employment development and economic expansion. A variety of people, including skilled artisans, craftsmen, store employees, and support workers, now have jobs thanks to the initiative. The local population's quality of life has improved as a result, and it has also improved the region's economy as a whole.
Explore how the project has revitalized the surrounding areas and attracted tourism
Omaxe Chandni Chowk has regenerated the neighbourhood, bringing in tourists and enhancing small businesses. The project has attracted tourists from all over the world because of its cutting-edge infrastructure and dedication to maintaining the historical beauty of the market. A thriving ecosystem has developed around Chandni Chowk as a result of the increased foot traffic and tourists, which has had a positive knock-on impact for nearby companies.
The opportunities created for local entrepreneurs and artisans
For regional small business owners and artists, the initiative has created new prospects. Omaxe Chandni Chowk offers them a stage on which to advertise their services and goods to a larger clientele. Local craftsmen might work with upscale retail companies to reach a bigger audience with their distinctive items and craftsmanship. This exposure and cooperation boost entrepreneurship and sustainable economic development by providing local firms and craftspeople with growth prospects. The initiative acts as a catalyst for cultural rebirth, economic progress, and community empowerment by creating a balance between modern luxury shopping and the character of Old Delhi.
Conclusion
We emphasized Chandni Chowk's importance as one of Delhi's oldest and busiest markets, noted for its extensive historical and cultural legacy. The goal was to comprehend how Omaxe Chandni Chowk skillfully combines traditional charm with contemporary luxury shopping to produce an unforgettable experience.
Omaxe Chandni Chowk acts as a catalyst for the preservation and renewal of culture by encouraging local businesses, championing craftsmen, and resurrecting traditional crafts. Chandni Chowk has the ability to thrive as a bustling cultural and retail centre, luring tourists from all over the world and providing them with a distinctive experience that embraces the legacy of Old Delhi, with continuous support and collaboration.
The historic Chandni Chowk is given new life as Omaxe Group upholds its dedication to history preservation, luxury shopping, and community empowerment, paving the path for a thriving and successful future and preserving the spirit of Old Delhi for future generations.