In the center of Delhi, Chandni Chowk is a lively market with considerable historical and cultural significance. It has long been known as a shopper's paradise due to its little alleys, classic appeal, and wide variety of stores. However, as time went on, the market began to have issues with antiquated infrastructure, traffic, and amenities. Enter Omaxe Chandni Chowk, a ground-breaking development initiative that has changed the neighborhood's commercial scene. Omaxe Mall Chandni Chowk has given this famous market fresh vitality by fusing contemporary conveniences with Chandni Chowk's rich history. 
This blog's objective is to examine Omaxe Chandni Chowk's development and its effects on Delhi's commercial scene. We will explore more closely how Omaxe Chandni Chowk has changed the way people buy and rekindled the spirit of this old market, from maintaining cultural history to putting in cutting-edge infrastructure.
Chandni Chowk: A Glance at the Past
Overview of Chandni Chowk's history and cultural importance
The Mughal Emperor Shah Jahan created Chandni Chowk in the seventeenth century. The name "Chandni Chowk" means "Moonlit Square," which reflects the market's initial conception as a wide boulevard with a central canal reflecting moonlight.
The market has witnessed important historical occurrences and has been essential to the development of Delhi's cultural landscape. For many years, it has been a bustling center for business, trade, and cultural interactions. Chandni Chowk is a rich trove of architectural legacy with its winding alleyways dotted with historic buildings, famous landmarks, and ancient havelis.
The original market layout of Chandni Chowk is a maze of little alleyways, each specializing in certain goods or trades. It provides a wide variety of products, including street cuisine, textiles, jewelry, and gadgets, as well as spices and other items.
Key attractions in Chandni Chowk: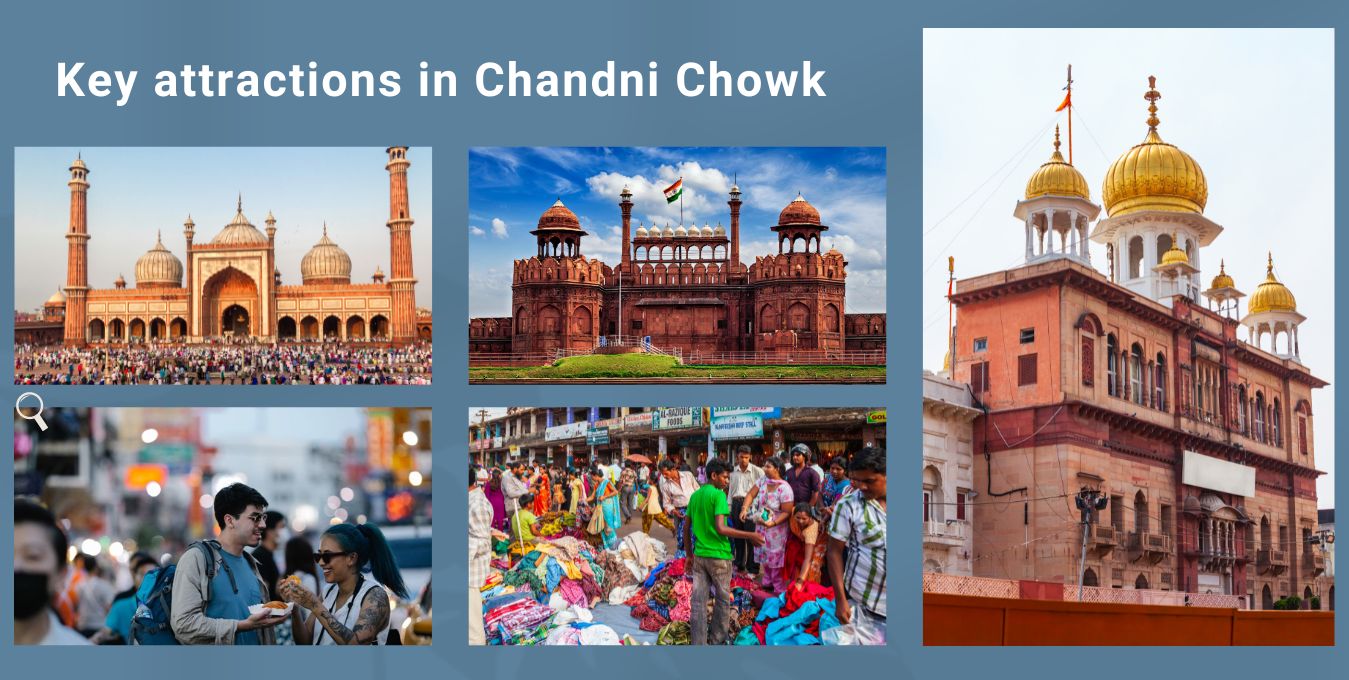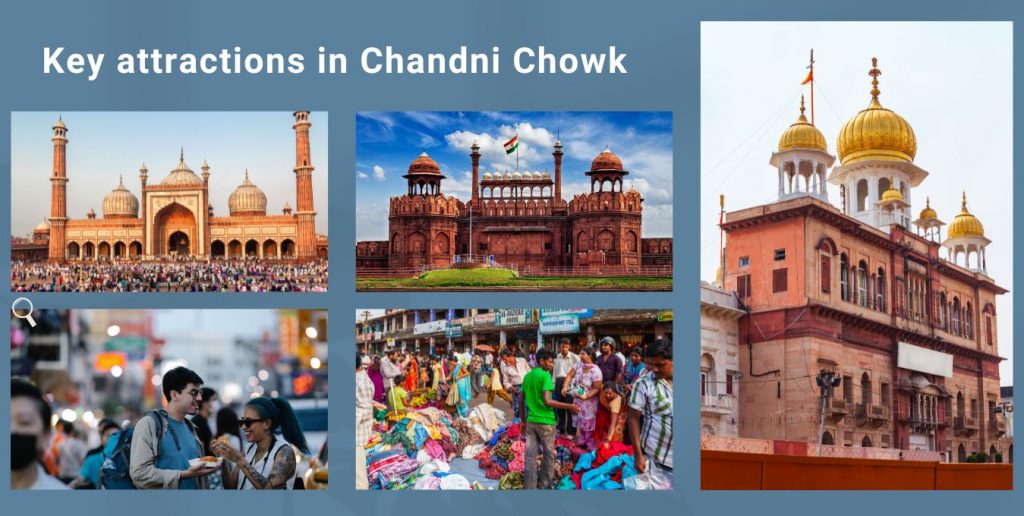 1. Jama Masjid: One of India's largest and most beautiful mosques, built by Shah Jahan in close proximity to Chandni Chowk Omaxe.
2. Red Fort: A UNESCO World Heritage Site and historic fort complex that once served as the residence of Mughal emperors.
3. Gurudwara Sis Ganj Sahib: A Sikh place of worship, associated with the martyrdom of Guru Tegh Bahadur, the ninth Sikh Guru.
4. Paranthe Wali Gali: Famous for its delectable paranthas (Indian stuffed flatbreads) served in numerous variations.
5. Kinari Bazaar: Known for its dazzling array of traditional wedding accessories, including zari borders, embroidery, and trims.
Challenges faced by the old market and the need for redevelopment
Over time, the old market of Chandni Chowk faced several challenges:
1. Congestion and Infrastructure: The haphazard structure and small lanes caused major traffic congestion. Both business owners and customers had difficulties due to inadequate parking, a lack of contemporary facilities, and obsolete infrastructure.
2. Deteriorating Facilities: Many stores lacked adequate ventilation, sanitation, and other necessities. The outdated plumbing and electrical infrastructure was unable to meet the changing demands of both companies and consumers.
3. Safety Issues: The packed lanes and improvised construction raised the possibility of accidents and fire dangers. Both customers and store owners were at risk since there were no current safety precautions in place.
Given these difficulties, Chandni Chowk urgently needed to be redeveloped in order to protect its cultural legacy and meet the demands of a modern retail experience. The market has the chance to be revitalised and made more appealing to both residents and tourists with the introduction of Omaxe Mall Chandni Chowk.
Introducing Omaxe Chandni Chowk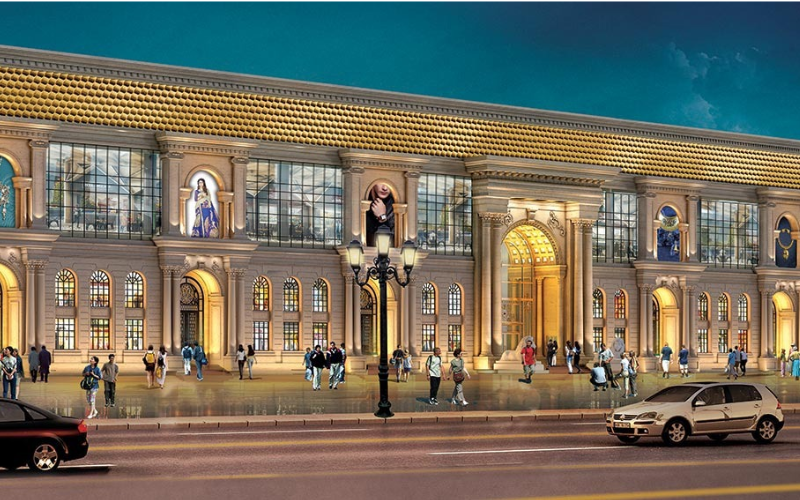 Omaxe Group and its vision for the project
One of India's top developers of real estate, Omaxe Group is renowned for its ground-breaking initiatives in the residential, commercial, and retail sectors. Omaxe Group undertook the challenging project of redeveloping Chandni Chowk to retain its historical charm while incorporating contemporary facilities because of its solid record for producing high-quality buildings.
The goal of Omaxe Mall Chandni Chowk was to provide a modern retail center that would improve customer satisfaction, stimulate local economic development, and highlight the region's rich history.
Overview of the redevelopment plan and architectural design
The Omaxe Chandni Chowk development plan used a painstaking approach to preserve the character of the historic market while incorporating contemporary facilities. A harmonious fusion of ancient and modern features was the goal of the architectural design. Building facades have been renovated, protecting Chandni Chowk's rich architectural history. To preserve the cultural integrity of the design, traditional themes, and materials were included.
Key features and facilities provided by Omaxe Chandni Chowk
The best commercial property in delhi provides a number of essential amenities to improve the shopping experience, including:
1. Multi-Level Retail Spaces: The project included multi-level retail spaces to house a variety of businesses and provide clients with a wide range of goods and brands.
2. Modern conveniences: To improve visitor convenience and comfort, the market now offers contemporary conveniences including escalators, lifts, air conditioning, and lots of parking places.
3. Food Court and Fine Dining: Omaxe Mall Chandni Chowk offers both a food court and fine dining experiences, providing a variety of culinary experiences to suit all palates.
4. Entertainment Zones: The proposal includes entertainment and recreation areas to promote downtime and relaxation.
5. Digital Integration: To improve the whole retail experience and connection, Omaxe Chandni Chowk incorporates digital signs, Wi-Fi, and online platforms.
Omaxe Mall Chandni Chowk has revitalised the shopping district by providing these essential utilities and services while retaining the historical value of Chandni Chowk's key features and providing customers with a contemporary and delightful setting.
The Impact on Shopping Culture:
Comparison of the old market and the newly renovated Omaxe Chandni Chowk
The area's evolution from the historic market to Omaxe Chandni Chowk has had a tremendous impact on the neighborhood's retail culture. The two are contrasted to reveal:
1. A better environment for shopping: Omaxe Chandni Chowk Offers a more orderly, organised, and pedestrian-friendly environment than the previous market's packed and chaotic lanes. Shopping is now simpler and more comfortable thanks to the improved infrastructure and wider pathways.
2. Improved Facilities: By introducing modern amenities like escalators, lifts, and air conditioning, the shopping experience has been enhanced at the best commercial property in delhi . Visitor satisfaction has increased as a result of the accessibility of clean facilities, increased illumination, and enhanced security measures.
The diversity and range of stores and brands that are available
Customers now have access to a wider variety of goods and services thanks to the increase in stores and brands that Omaxe Chandni Chowk has attracted. A wide selection of regional companies, renowned brands, and domestic and foreign chains have all been added to the market. The variety of stores consists of
1. Fashion & Apparel: Omaxe Chandni Chowk is home to a large number of traditional and modern clothes shops that serve a wide range of interests and pastimes. It is a blend of tradition and modernity in retail experiences. A variety of boutiques provide both classic and contemporary types of jewelry and accessories. There are additional stores that focus on accessories including shoes, purses, and watches.
2. Electronics and gadgets: Shops in the marketplace sell the newest cell phones, household appliances, and gadgets.
3. Food and Drinks: Omaxe Chandni Chowk has a bustling food court with a wide selection of cuisines, as well as food stalls and street sellers selling delectable regional specialties.
Effects on neighborhood merchants and established companies
Renovation of Chandni Chowk owing to Omaxe Chandni Chowk's impact on local vendors and established companies have been mixed:
1. Growth Opportunities: The infrastructure upgrades and modern amenities have benefited local businesses and well-established ones. They now have access to a larger customer base, more visitors, and better publicity, all of which may lead to business growth.
2. Competition and Adaptation: Due to the proliferation of national and international chains and branded stores, certain traditional businesses may experience challenges. Local businesses have had to alter their offerings, raise the bar on quality, and provide unique experiences in order to stay competitive.
3. Preservation of Cultural Legacies: Omaxe Mall Chandni Chowk has sought to conserve the cultural legacy of the neighborhood by providing spaces for traditional enterprises. This guarantees the continuance of traditional methods and workmanship, preserving Chandni Chowk's genuine beauty.
Facilities & Modern Amenities:
Displaying contemporary comforts and services for customers
Omaxe Chandni Chowk offers a range of modern conveniences and services, which has enhanced the shopping experience.
1. Escalators and lifts: Visitors can use escalators and lifts to go between the multi-level shopping areas instead of traversing stairs.
2. Air conditioning: The market has total air conditioning, which provides customers with a comfortable environment, particularly in warm and muggy weather.
3. Parking Facilities: Omaxe Chandni Chowk provides allocated parking spaces, making it simple for visitors to park their automobiles and travel to the market without having to worry about finding parking elsewhere.
The effect of better infrastructure on traffic and visitor satisfaction
The improved infrastructure has increased traffic and improved the visitor experience at Omaxe Chandni Chowk:
1. Better Infrastructure: Enhanced Amenities, Easier Accessibility, and an Improved Shopping Experience have attracted more shoppers, both residents and visitors, to the market.
2. Better Visitor Experience: Customers can now shop with greater ease and enjoyment thanks to new amenities, larger walkways, and upgraded facilities. The improved infrastructure has made it easier to wander through the market and to spend more time browsing and making purchases. 
With the addition of contemporary infrastructure and services, Omaxe Chandni Chowk's entire shopping experience has been improved, attracting more consumers and fostering a more comfortable and welcoming environment for tourists.
Conclusion
The renovation of Chandni Chowk by Omaxe It was an amazing trek to Chandni Chowk. The ancient market presented difficulties, but because of its historical and cultural significance, Omaxe Group decided to renovate the area while maintaining its past. The market has been effectively updated as a result of the restoration, creating a more organised, pedestrian-friendly, and contemporary shopping atmosphere.
Omaxe Chandni Chowk has had a huge impact on Delhi's shopping scene. It has revitalised the well-known market and drawn a greater variety of businesses, brands, and customers. Modern facilities, infrastructure upgrades, and technological inclusion have enhanced and improved the retail experience for the comfort, convenience, and delight of customers. 
Omaxe Group achieves harmony by expertly combining the old and the new. Chandni Chowk's cultural centre has been preserved as a result of facade repairs, the incorporation of historic elements, and the development of spaces for local vendors. It serves as an illustration of how urban development may coexist with a place's rich history, creating a seamless synthesis of the old and the new.