In a vast country like India where people are deeply affected by its culture, food is one of the key elements of its social bonding & brotherhood. The rich cultural heritage exposes you to diverse cuisines every few miles. There is no limit to India's love relationship with food and Omaxe Chowk Mall knows it very well. For all who don't know, Omaxe Chowk is a new destination for shopping in Chandni Chowk, Delhi. But what's more interesting is there is a food court available where hundreds of cuisines are waiting for you all Food Lovers.
The Omaxe Chowk food court is a paradise for you if you're a Food Lover. And here are the reasons why I am saying so.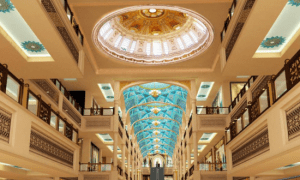 1. Culinary Wonderland at Omaxe Mall:
Omaxe Mall is serving its visitors with the biggest food court in India with a seating capacity of 1600+ people. The mall greets you with an ambiance that melts your heart in a fraction of a second. The whole interior has adopted a mix of Mughal, British, and Indian culture showing equal respect to all. But that's not all.
Omaxe Mall offers countless cuisines from all the corners of the Indian subcontinent and lands over the seas. The mesmerising scent, culinary delights, and bakeries, all are there to make your meals special with vibrant colours and blissful aroma.
2. A Feast for Every Palate:
One of the best remarks of the Omaxe Chowk Mall is its never-ending cuisine for every palate. Whether you're a fan of south-Indian dishes or your mouth only gets watered for overseas dishes, Omaxe has all that you want. Delicate dishes or healthy meals, there's a treasure hidden for all of its visitors.
Are you a vegan? No issues. Omaxe Chandni Chowk famous food is the perfect welcoming for you too.
3. Fusion of Traditional & Innovation:
Like the interior of Omaxe Chowk which presents a perfect blend of three and modernity, the food court of the Omaxe Mall does the same with the dining. Do you love classic Indian food or the innovative recent culinary items? Omaxe has covered it all with its surreal taste.
Imagine having a blissful blast of modern tweaks in classic Indian or regional dining. Well, how about international favourites with local spices? It's Yum!
4. A Global Gastronomic Journey:
Food brings the world close to each other and Omaxe is one excellent example of how different cultures from overseas can blend with each other and present a great cuisine. From spicy street food and South India's delegate dishes to comforting flavours of International food items, all you will find at Omaxe at just an order away. Each dish will take you to a different corner of the world. Chefs here replicate the exact taste of the food from their original land so that each bite can take you on an adventure that is beyond boundaries.
5. Craftsmanship & Culinary Passion:
Omaxe food court is not a place for eating only. The stage is set to represent the craftsmanship of the chefs. We refer to them as artists. They not only make delicious food but also prepare visually to stun their audience. This is a perfect example of dedication, passion, and creativity. They make sure to offer an unwavering commitment to quality & quantity so that each bite gives you the essence of culinary prowess.
6. A Vibrant Social Hub:
Beyond a place for eating, the Omaxe Mall food court has evolved into a hub for vibrant social activities. It's a place where families can come, relax, and give themselves a fine dinner. The place is for friends who can have a shared meal and have some classy gossip. It's perfect for colleagues who are looking for a place to discuss their future plans for strengthening the business while having a good meal. This is a place where people can enjoy their solace time with a mouth-watering dish from their list of favourites.
7. Plan Your Culinary Odyssey:
Omaxe Chowk features the largest food court in India. Hence it is sure that you can't get the best of it without any prior preparation. The best way to enjoy this never-ending dinner is to strategically fix the idea of what you want to have. A personal suggestion would be to come out of your comfort zone and try delicious dishes from across the world.
Conclusion:
Want to taste the world famous food in Chandni Chowk Delhi? Check into the Omaxe Chowk Mall on the other side of Chandni Chowk. The mall has a blissful area of 5 acres with India's largest food court that is capable of welcoming 1600+ people together for dining.
If you're reading this article, don't forget to remember to plan your culinary odyssey before going to the Omaxe Delicious Dine.