Chandni Chowk is the most famous and busiest city located in Delhi. If you want to do jewelry shopping for your special occasion, jewelry shops in Chandni Chowk always offer the best option for you. It is very close to Delhi Metro station due to which there is no dearth of traffic here. That's why people from India, as well as other countries, come here for jewelry shopping.
In Chandni Chowk, you get a choice from intricate gold and silver pieces to designer, traditional, and contemporary jewelry. In this article, we are going to share complete information regarding jewellery shops in Chandni Chowk. Read the article till the end for complete information.
Top Jewellery shops in Chandni Chowk
Every person wants to make the beautiful moments of his life memorable. Especially in marriage, a person looks for better design in everything from his outfit to jewelry. If you are looking for the best jewelry for your wedding or other functions in Delhi, you have to check the list of the best places in Chandni Chowk for jewelry shopping. 
Chandni Chowk has many great places to buy jewellery, among which Dariba Kalan, Kinari Bazar, and Meena Bazaar are also quite famous. India's capital Delhi is very famous for shopping. Everything you need is easily available in Chandni Chowk, Delhi. 
Here you get so many options that you do not need to go to any other shop to make purchases. If you have made up your mind about jewelry shopping in Delhi, we are sharing the list of Chandni Chowk jewelry market names with you. This will help you in jewelry shopping.
1.) Omaxe Chowk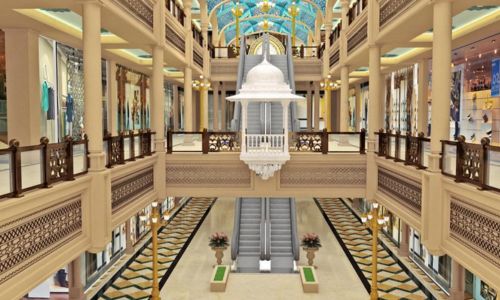 Omaxe Chowk mall is one of the oldest and busiest markets in New Delhi, the capital of India. This is the oldest place in Asia and is spread over a total land of 4.5 acres. Here you can buy all types of designer jewelry and clothes as per your budget.
It is the best option to choose for jewelry shopping as it is quite famous for beautiful jewellery. With this, jewelry business giants like Tanishq, Senco, and Giva have signed up. It occupies about 11,000 square feet in Jewel Court. It offers you a stunning range of gold, silver, and diamond jewelry designed by national brands and traditional jewelers.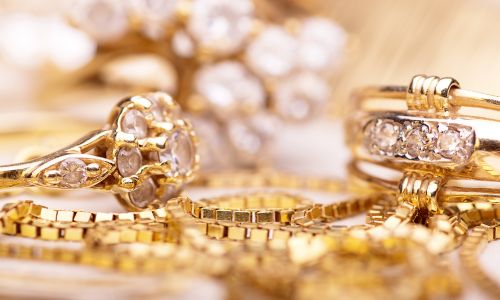 If you want to wear designer bridal lehenga and are confused after seeing the names of lehenga shops in Chandni chowk, you can choose your favorite designer lehenga from Omaxe Chowk. If you want to wear a non bridal lehenga for your special function or anniversary, there are many options for you in non bridal lehenga shops in Chandni chowk, Delhi.
In the present market, Omaxe Chowk is maintaining a stronghold among customers with the help of designer jewelry. Here you get the widest range of the entire jewelry market under one roof.
Visit them at:
138, Kaccha Bagh Area, Chandni Chowk, New Delhi, Delhi 110006
Contact Number: +91- 9999888807
2.) Panna Lal Roshan Lal Jewellers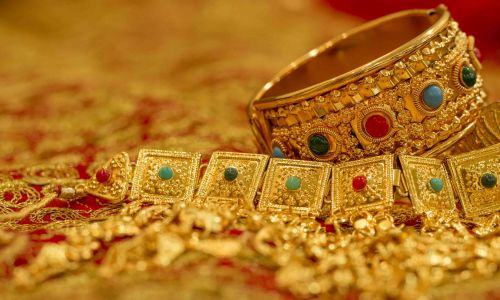 Since 1922, Panna Lal Roshan Lal Jewellers has been at the top position among the leading sellers of jewellery in Chandni Chowk, Delhi. In Delhi, you can find many jewelry shops in Chandni Chowk but Panna Lal Roshan Lal Jewellers is the best option for jewelry shopping.
The customers here are not limited to India only but people from abroad also come here to shop. Its popular style jewelry collection includes classic and vintage designs. People from countries like Australia and Europe also do jewelry shopping from here. 
It has been providing excellence in jewelry to its customers without compromising on high quality and standards for over 100 years. Here you can experience an exquisite range of gold and silver jewelry handcrafted by experienced artisans in India.
3.) Jain Jewels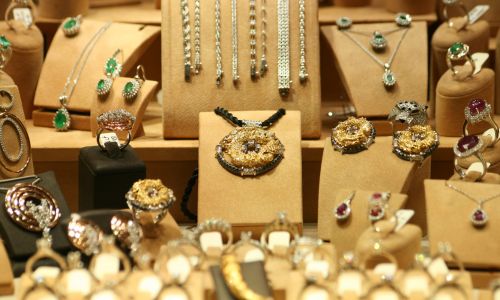 Jain Jewels are famous all over India for manufacturing and supplying jewelry and for its best services. If you are a resident of Delhi or want to go to Delhi and do jewelry shopping for yourself, look for the Bridal jewelry Market in Chandni Chowk.
If you want to make jewelry shopping easy and get a great experience, your best option is Jain Jewels. In its jewelry collection, you get great options of anklets, bangles, bridal matha patti, designer rings, necklace set, pearl jewelry, Rani haar set, stylish earrings, waist belt jewelry, uncut necklace, and bridal jewelry.
4.) Nihalsons Jewelers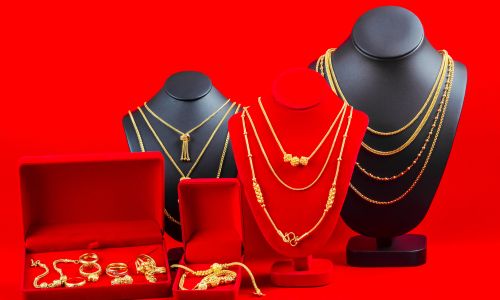 Since 1973, Nihalsons Jewelers has been the most renowned place in the category of Gold jewelry Showrooms in Daryaganj, Delhi. Among all the jewelry shops in Chandni Chowk, Delhi, this one ranks high in providing service to the customers. 
If you want to enhance your bridal look, you can try pure brass real gold jewelry options from here. It brings to you a stunning range of American diamond jewelry sets, choker sets, and necklace sets. 
It provides true fashion jewelry to its customers with a wide range of designs and pattern options. If you are fond of glamor, style, fashion, and trade, jewelry shopping from Nihalsons Jewelers is the best option for you.
5.) The Mod Shoppe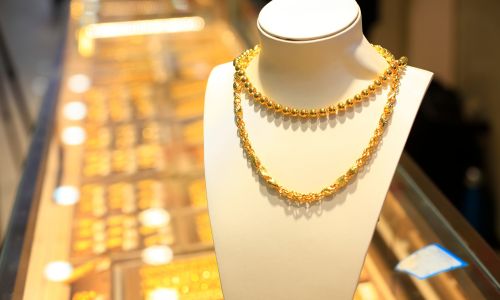 The Mod Shoppe is located in Kamla Nagar, Delhi. It is famous for its stylish jewelry. These mainly manufacture designer jewelry. The Mod Shoppe brings to you a range of designer jewelry like Victorian sets, Kundan sets, Polki sets, bangles, earrings, and rings.
It has also tied up with many traditional jewelers across India. You can also get a mix of modern and traditional jewelry in the jewelry market here, Jewel Court. It gives you both a traditional and trendy look. 
It is famous for its artificial jewelry services provided. From 1978 till now it has been competing with many famous jewelry shops in Chandni Chowk.
6.) Bharat Jewelers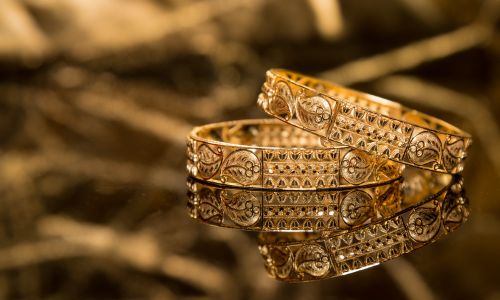 Bharat Jewelers was started in 1950. It is located in Pahar Ganj, Delhi. In its shop, you can buy jewelry designed by famous designers in India at reasonable prices. It takes you only 35 to 40 minutes to reach Bharat Jewelers from Delhi Metro station.
It is a leading manufacturer, supplying and trading gold, silver, and diamonds. Bharat Jewelers offers its customers products like Silver Tie Pin, Polki Kundan, Money Clip, Semi Precious Gems, and Precious Gems. Famous artisans of India design these using the latest trends and styles. It is included in the list of places to visit in Delhi with family for shopping. It is also one of the best Jewellery shops in Chandni Chowk. 
7.) Shri Balaji Mansaram Jewelers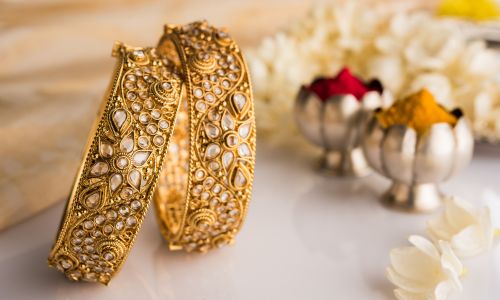 The special thing about the jewelry made at Shri Balaji Mansaram Jewelers located in Chandni Chowk is that American diamonds are used in it. Here you can buy top quality jewelry within your budget.
You can buy all types of jewelry as per your wish from Shri Balaji Mansaram Jewellers. Its collection has the largest range of gold, kundan and inlay jewelry. From here you can buy the latest, artificial, and trending jewelry. It has vast industry experience and expertise which helps it in satisfying its customers. This shop is also known for the best Jewellery shops in Chandni Chowk.
Conclusion: 
Chandni Chowk of Delhi is the best option for shopping for jewelry as designer jewelry and clothes are available here as per the festivals. You can do good shopping here even on a low budget. On occasions like weddings, birthdays, and anniversaries, people from India and its neighboring countries come here for shopping purposes. Apart from jewelry and clothes, you can also buy essential items here.
If you liked today's article, share it with your friends so that they can make their beautiful moments memorable by shopping from jewelry shops in Chandni Chowk Delhi.