Wedding season 2023 is here. Brides-to-be and their best maids, are you excited for attending shaadi?  And what about blasting family gatherings and losing control while dancing?  Of course you are. 
We are sure you want to make a dramatic filmy entrance with elegant lehengas. But where to find one for the D-day? We have covered that up. 
The best lehenga shops in chandni chowk is the most appropriate market for your search. Whether it's the replica of a famous designer or an original piece sparkling with traditional red colour, here you will find all.
Best lehenga Shops in Chandni Chowk
1.) Omaxe Chowk Mall: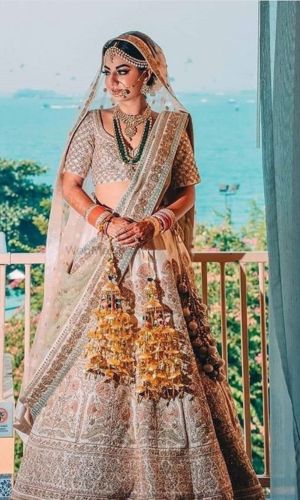 Omaxe Chowk mall is the one place where you can find almost everything including the special bridal collection. The place imitates an amalgam of British, Indian, and Mughal cultures and the place has turned out to be a magical heaven for history lovers and explorers. 
The Omaxe Mall has a separate segment for unique and designer Bridal collections and is the best sherwani shop in Chandni Chowk. The place is affordable and also is the home to some of the best works in traditional as well as trendy lehengas. And don't forget to miss the Manish Malhotra & Sabyasachi special designs here.
There are many Lehenga stores in the mall so be ready to get exposed to a wide range of collections. You may also get the customisation option but our suggestion to you is not to go after custom lehengas in the best shopping mall in Delhi NCR. They already have plenty of beautiful options right there. 
Keep a handsome budget of 1-3 Lakh and get your hands on the best of pieces here. 
Visit them at:
138, Kaccha Bagh Area, Chandni Chowk, New Delhi, Delhi 110006
Contact Number: +91- 9999888807
2.) Om Prakash Jawahar Lal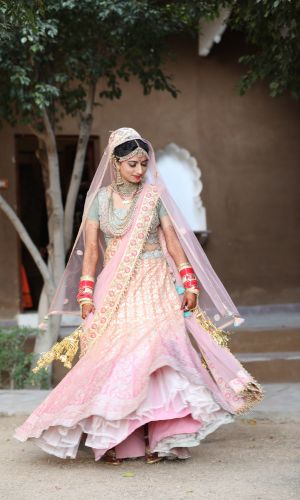 This shop is well known among the best lehenga shops in chandni chowk for its traditional but elegant pieces of Lehengas. They have a huge collection of trending designer Lehengas inspired by Manish Malhotra & Sabyasachi designs. 
However, they compromise on the flare part of their designs. Not that they don't have a full flared collection but here you will notice that the flare part is out-of-the-focus unlike the other shops. 
This shop also allows you customisation. So if you have a specially customised design for your wedding lehenga, visiting here is a good idea. 
If you have a handsome budget of 2 Lakh, visiting this shop should be on your list. 
Visit them at: 
354, 1st Floor, Naya Katra, Chandni Chowk Rd, Chandni Chowk, New Delhi, Delhi 110006. 
Contact number: 01123273312. 
3.) Asiana Couture: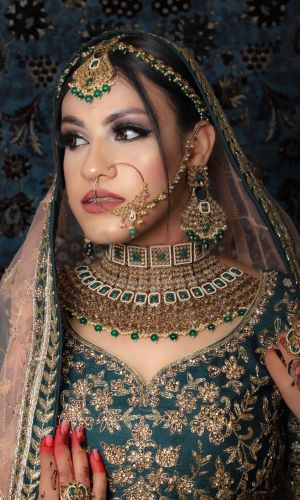 Love the latest lehenga trends?  Asiana Couture should be your next destination for such outfits. Right from the famous designer's collection to the traditional red elegant pastels, Asiana has a huge collection of lehengas of premium quality.
Though they offer you customisation, it's totally your choice to go for it or not. In our opinion, customisation should always be on your 2nd list. You will get a reasonable price for each designer lehenga piece. But don't expect prices to be cheaper. 
Asiana Couture is relatively new so you may get a better deal than other old established shops. The high-quality fabrics, precise cuts, and stitches have gained popularity in quite a short time. 
Visit them at:
652, 655, Katra Hardayal, Nai Sarak, Chandni Chowk, New Delhi, Delhi 110006
Contact number: 0112326 9452
4.) Pakeeza Plaza: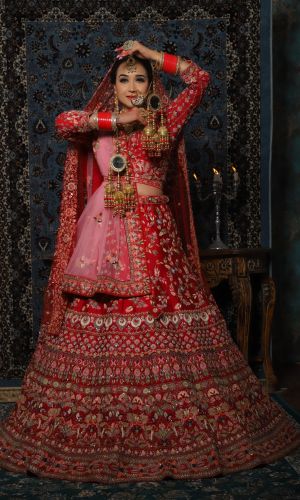 Pakeeza Plaza is among the best lehenga shops in Chandni Chowk for mid-range shopping lovers. You will get exposed to a wide collection of lehengas with the most exquisite designs of traditional embroideries and Zardosi Work. However, their prices will not touch the sky so don't worry. 
Pakeeza Plaza is a great choice for lehenga exploration. Sometimes you just get satisfied with the first one, sometimes it takes hundreds of lehengas to find that one perfectly suited piece. 
They are affordable and offer a wide range of collections from designed to quality customisation. Customisation here is really impressive and stands out among other shops in Chandni Chowk.
Visit them at:
73, 2nd Floor, Moti Bazar, Chandni Chowk, New Delhi, Delhi 110006
Contact number: 09953281296
5.) Shrangar: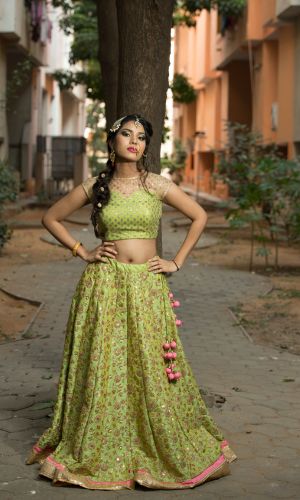 Shrangar is like an old wine for Lehengas in Chandni Chowk. It is one of the oldest and top shops in Chandni Chowk, well reputed for lehengas and sarees in all categories. Most importantly they provide you with the best work pieces inspired by Sabyasachi designs in a pocket-friendly budget. 
Whether you're looking for full elegant traditional or trendy or receptionist lehengas, Sharangar should be on your budget list. Utterly fine designs are its USP. 
Visit them at:
1220, Maliwara, Nai Sarak, Chandni Chowk, Delhi, 110006
Contact number: 01149064205
6.) Lehenga House: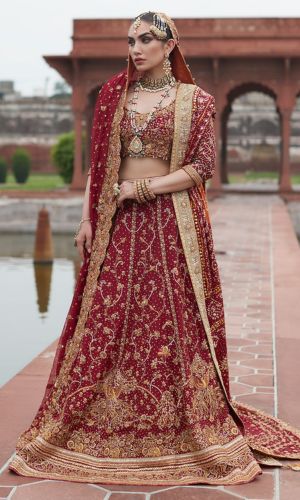 Want to super budget-friendly store for wedding lehengas. Well, no worries, Chandni Chowk has that one precious gem for you. 
Welcome to 'The Lehenga House'. This store is solely for tight budget people. On demand they will show an exotic wide collection of designer lehengas and in-budget original designs. 
Expect here the best of price deal and replicas of famous works of designers. 
Visit them at:
1392, Katra Bariyan, Chhippy Wada, Chandni Chowk, Delhi, 110006
Contact number: 09711315153
7.) Payal Keyal: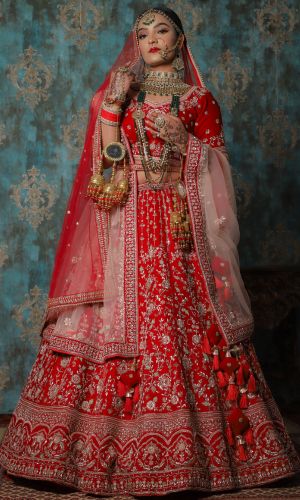 Payal Keyal is relatively very new to the market but it has grasped a considerable market share with its focused audience work. Let us be very clear. Payal Jeyal is not budget-friendly as it offers very unique collection of Lehengas of original designs. Where Chandni Chowk is famous for replicas, this place straight says 'No' to them. 
Here you see a wide collection of contemporary, fresh, and millennial choice collection in unique designs for you to flaunt in wedding & family gatherings. Want some experimental crisp to your bridal look like those with feathers & tassels? Visiting here is a must then. 
Visit them at:
Shop 655, Katra Hardayal, Opposite, Town Hall, Chandni Chowk, Delhi, 110006
Contact number: 01145794896
8.) Sunehree: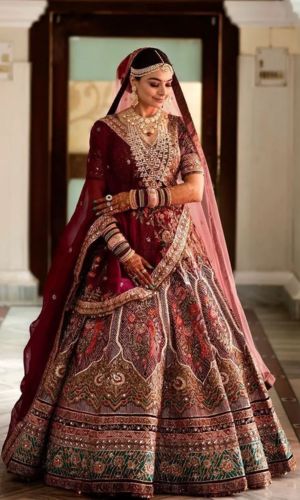 Sunehree is a exotic heaven for mid-range lehenga lovers. Their budget mostly goes up to 1 Lakh only whereas you can expect the price range to start from 50K only. 
The collection here ranges from the embellished pieces of lehengas to sequinned and traditional lehengas of deep red colors. Expect a mid price range collection at Sunehree that are pleasing to eyes and worth of quality. 
 Visit them at:
242, Second Floor, Main Road Near Katra Pyaare Lal, opposite Jindal Jewellers, Chandni Chowk, New Delhi, Delhi 110006
Contact number: 01123275488
Conclusion: 
The wedding season is here and we have listed down several best places for your bridal shopping. Whether you're looking for high-range lehenga from the wardrobes of designers or something of mid-range, everything is available at best lehenga shops in Chandni Chowk. Visit all of the mentioned places to visit in Delhi with family for shopping and don't miss to ask for discounts.