Chandni Chowk is an exciting hub of Old Delhi. This location has so much history and is crowded with different markets. Its lively marketplaces and magnificent Mughal-era architecture have attracted both residents and visitors.
The availability of shops for sale in Chandni Chowk is one of the most exciting prospects for anyone interested in starting a business. We'll give you an overview of the opportunities offered by this well-known market.
Why Invest in Chandni Chowk?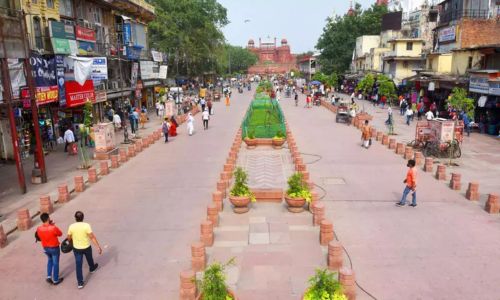 The historical significance of Chandni Chowk is so beautiful that we can't ignore it. Shah Jahan, the Mughal emperor, made it in the seventeenth century, and its allure has only increased with time.
The Red Fort, Jama Masjid, and other architectural marvels provide a wonderful environment for the market. The unique combination of modern commerce and history in Chandni Chowk is exciting. There are different businesses which have benefited from it.
There is a steady stream of people passing through Chandni Chowk every day, creating a busy atmosphere. Due to the constant high foot traffic, Chandni Chowk's vendors are guaranteed a regular flow of potential customers.
The cloth market of Chandni Chowk is one of the busiest markets in Asia. There are different types of cloth shops in Chandni Chowk selling clothes all over India. The footfall includes both locals and visitors taking in the sights of Old Delhi's ancient neighbourhood.
With a range of items to suit the needs of various client sectors, Chandni Chowk serves a wide clientele. This market offers something for everyone. Be it tourists looking for traditional Indian commodities including textiles, jewellery shopping, and handicrafts, or locals buying for daily necessities.
Because of this diversity, there are many chances for enterprises to prosper and carve out distinct market niches.
In Delhi, Chandni Chowk is a popular tourist destination. It is also recognised for its crowded bazaars, tasty street food, and ancient structures. This results in exposure to worldwide clients for local enterprises.
It is perfect to look for shops for sale in Chandni Chowk and invest efficiently. The tourists are anxious to experience real local culture and buy distinctive items.
Also Read: Best tourist Attraction in Chandni chowk
Chandni Chowk is an active marketplace and one of the biggest in India. This location consists of important historical and cultural monuments. The market is home to a broad variety of enterprises, including those selling spices, textiles, and electronics. This is why Chandni Chowk offers the best commercial property in Delhi for investment.
Having a commercial space in Delhi would benefit your business in the long run. Chandni Chowk must be on your bucket list for investment purposes.
One may fully immerse themselves in the culture of Chandni Chowk. A true Indian atmosphere is created by the architecture, the activity on the streets, and the fragrance of the street food. The designer clothes sold at the famous cloth shops in Chandni Chowk are another centre of attraction.
Businesses operating in this location may make use of the diversity of the local culture to offer distinctive and memorable client experiences.
The business community in Chandni Chowk offers fantastic possibilities for networking. Interactions with nearby business owners, suppliers, and customers might result in beneficial relationships and partnerships. These relationships may help a business expand through collaboration on marketing campaigns, sourcing possibilities, or the pooling of resources.
Tips for Investing Shops for Sale in Chandni Chowk
| | |
| --- | --- |
| Market Research | It's important to do the research before looking for the best commercial property in Delhi |
| Location | Finding the right location for your business is important as it shows growth potential |
| Partnerships and Networking | It is important to create connections with local businesses and organisations as it will benefit both parties. |
| Understand Lease terms | Before buying a property always understand the lease terms |
| Adaptability and Innovation | Be adaptable and receptive to new concepts. The markets of Chandni Chowk are adapting to the new innovative changes. |
| Budget and Affordability | Always think in advance about the budget. Check whether you can afford to buy the commercial property or not! |
| Financial management | Plan your finances before investing in it. It is a matter of long-term so financial planning is crucial. |
Market Research
Investigate Delhi's many neighbourhoods and business districts in great detail. In Delhi, there are different commercial spaces available. However, choosing the best commercial property in New Delhi demands market research. Look for the right property now!!
Before making a purchase for commercial space in Delhi, verify the property's accessibility and connectivity. Make sure your staff, clients, and suppliers can quickly access the location.
You may greatly improve the effectiveness of your business operations by choosing a location that is handy for both your target market and workforce.
Also Read: Importance of location 
Based on your financial situation and long-term business objectives, create a sensible budget. Consider other expenses like upkeep, levies, coverage, and renovation charges.
Never undervalue the added expenses that come with office ownership. Make sure to factor in recurring costs for things like utilities and any remodelling needed to turn the space into a functional workspace.
Before buying a shop for Sale in Chandni Chowk, do legal research. This includes conducting property inspections, identifying ownership, evaluating the building's condition, and checking important documents such as title deeds, permissions, and licences.
Successful bargaining may result in a better agreement. Negotiate the buying price and other issues with readiness. Negotiation skills can help you get a better deal and save money.
Recognise the legal consequences of purchasing commercial real estate in Delhi. It includes property registration procedures, zoning rules, and documentation requirements.
It may be possible to hire a lawyer to assure compliance and ease any legal concerns. As a result, it is critical to recognise the legal aspects of commercial space for sale in Delhi.
Before finalising Shops for Sale in Chandni Chowk, it is critical to inspect the space. One of the most common mistakes a buyer may make is failing to check the property. This is significant since it allows any flaws to be identified before any agreements are finalised.
Visit the shop and examine their design, infrastructure, and condition to see if they are acceptable for your needs now and in the future.
Take into account the region's capacity to meet your needs. Look for the design, infrastructure, and overall wellness to ensure that the general shop conditions are up to pace. Find out whether there is room for growth in the future and whether the arrangement meets your company's requirements
Partnerships and Networking
It is important to create connections with local businesses and organisations as it will benefit both parties. These relationships could lead to collaboration, support, and analytical market knowledge for Chandni Chowk.
Adaptability and Innovation
The state of the market in Chandni Chowk Mandi has been impacted by seasonal variations and economic shifts. Be adaptable and receptive to new concepts. Your ability to adapt to changing conditions and change course will determine how successful you remain.
Plan out a financial plan, think about your choices, and consider the extended profits as you plan your investment. Consider factors including rental pay, property appreciation, support expenses, and charges. Deciding whether the investment is monetarily possible is fundamental.
Conclusion

So far we have seen all the factors that makes Chandni Chowk a wonderful place to invest. But now the question is where to find such investment opportunities in such big Chandni Chowk market, where there are lakhs of customers coming everyday, there are all the facilities for all shop owners for more sales and profit?
Relax, Omaxe Chowk. It is the biggest and most popular shopping destinations in India. So if you are serious about growing your business then, Omaxe Chowk is your one stop solution.
If you like our blog and found it valuable then don't forget to share it with someone who is looking forward to investing in such a place. And if you have any questions do contact our Omaxe Team.