Delhi is a huge city, giving shelter to almost 35 Million people and protecting the rich Indian heritage of thousands of years. Anyone will be mesmerised visiting here as it is the home to several Indian, British, and Mughal architectures which have centuries of memories and historical importance on our motherland. 
Delhi situated Chandni Chowk is a world-famous and the largest wholesale & retail market in Asia. Quite similar to all historic places in Delhi, Chandni Chowk also is a thick book of history, economy, culture, bravery, and war stories. 
It is one of the most favourite places of tourists and each year, nearly x number of people visit this old market. But not all of them get to explore it completely. If you're planning to go to Delhi & visit Chandni Chowk, this article is to expose you to the best tourist attraction in Chandni Chowk that you can't miss. 
About Chnadni Chowk:
Chandni Chowk- It literally translates as Moonlit Square. Chowk is one of the busiest markets in the world and is situated at the heart of this beautiful diverse country India. The chowk was established in the 17th century by the Mughal emperor Shah Jahan. It is also the home to some of the most famous historic architectures such as Red Fort & Jama Masjid. 
The Chandni Chowk features thousands of lined-up shops, each offering a unique glimpse of India's finest work. From jewellery to spices, all you can think of is available here. But beyond the commerce of Chandni Chowk, you can see some hidden treasures like Gali Parathe Wali for its unique taste & long-listed menu of real old Delhi. 
A visit to Chandni Chowk will leave you in awe of its unique amalgam of all the previous cultures that resided here for centuries. Don't miss these tourist attraction in Chandni Chowk if you're planning to visit there. 
——Add an Image to Each——-
1. Omaxe Chowk: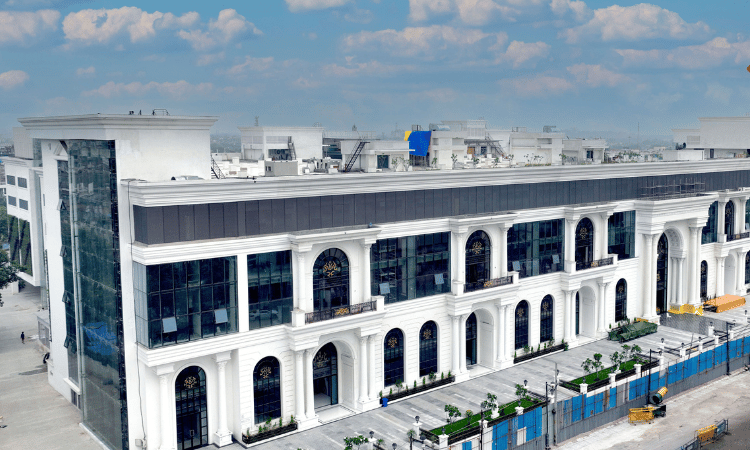 Omaxe Chowk is the new face of Chandni Chowk in 2023 which has completely transformed the vibes of the Chowk. It's a shopping destination where Omaxe Mall offers 5000+ independent, startups, and franchise businesses to its visitors. Moreover, the place makes us feel the heritage of Indian amalgam culture which is deeply affected by Indian, Mughal, and British cultures. The pace offers you quality time to enjoy with your family, friends, and partner. 
Omaxe Chowk features India's biggest food court with a 2000+ seating capacity, Air air-conditioned lounges, a special kids zone, a cultural zone, and a special entry from the Chandni Chowk Metro station directly. Delhi is known for its rich food & cuisine. Omaxe Chowk is one of the best Places to Visit in Delhi with Family for Dinner. 
Here, you will find the biggest wholesale & retail market with all the security systems, entertainment, car parking services, ATMs, Banks, cinemas, and a wide space to embrace the traditional vibes with events, and private parties. The Chowk has recently become among the best tourist attraction of Chandni Chowk and is gaining fame among locals & tourists alike. 
2. Lal Kila: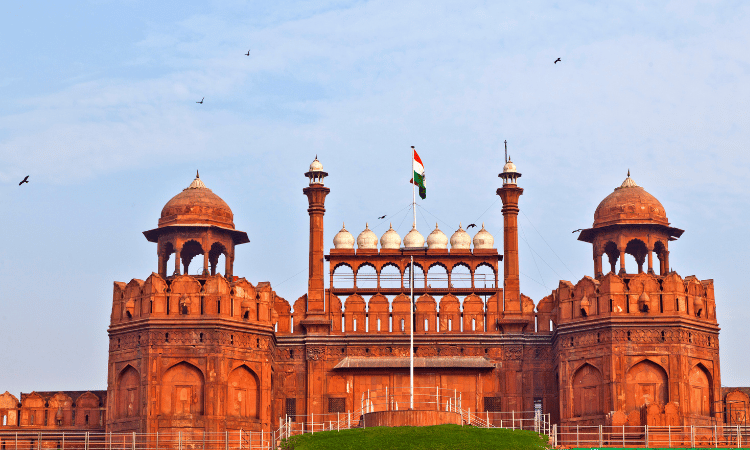 Lal Kila is Delh's best representation of India's rich heritage & architectural richness. The palace is made up of red stones that have been witnessing the changing world since the 17 century. The Mughal Emperor Shah Jahan built the Red Fort with all the amenities which were then luxuries. 
The Red Fort is a UNESCO world heritage site that is prominent evidence of Mughal richness in our country. The Red Fort covers an area of 2 km and encloses some marvellous palaces, pavilions, and lush gardens. 
The main entrance of the Red Fort is Lahori Gate which further leads you to Diwan-e-Aam and Diwan-e-Khas which were then the assemblies of the Mughal Emperor. The whole fort is made up of red stones and marble. 
The historic significance & captivating architecture makes the Red Fort a must-visit for all tourist attraction in Chandni Chowk. 
3. Kashmiri Gate: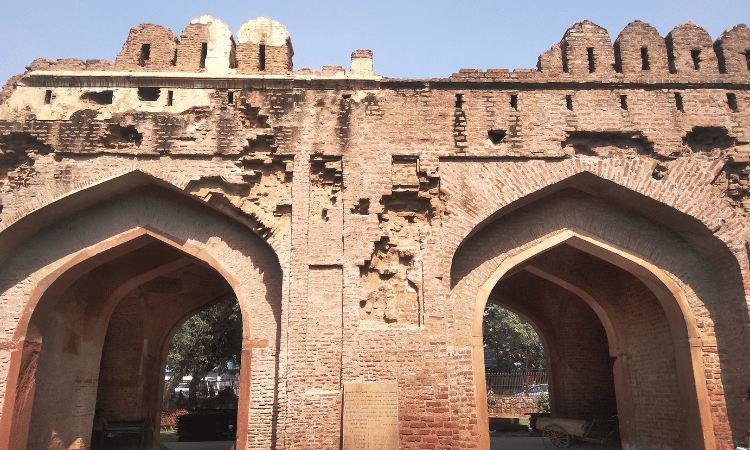 Like the Red Fort, the Kashmiri Gate also holds great significance in history. The landmark is on the road that leads to the northern regions of the country and hence is named after Kashmir. 
Kashmiri Gate itself has a proud history of being a witness to the 1857 revolt. This gate helped the first freedom fighters as a focal point to fight against the British Colonial rule. Today, the Kashmiri Gate stands in peace & as a tourist spot in Chandni Chowk. 
Kashmiri Gate gives you easy access to several parts of the city. A major railway station lies here and a metro station too adds richness to its life. The strategic location also features vibrant markets, eateries, and cultural attractions that carry Delhi's legacy and its modern, bustling energy. 
4. Gurudwara Sis Ganj Sahib: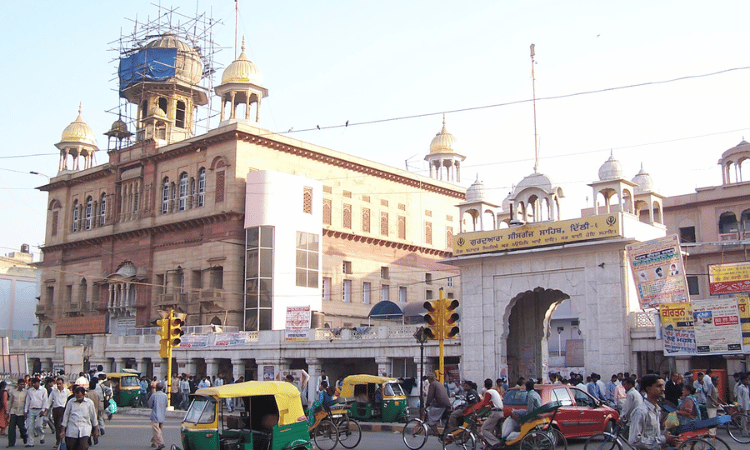 Gurudwara Sis Ganj Sahib is a heritage site in Old Delhi. It is a Sikh pilgrimage site that was built for martyr Guru Tegh Bahadur Singh Ji. He was the ninth guru of the Sikh community who fought against the Mughal emperors and later sacrificed his life for the freedom of practising individual religion & faith. 
The present Gurudwara was built in 1783. It stands as a symbol of resilience and faith. The white sanctum is home to many without any discrimination on the basis of caste & creed. The whole sanctum is made up of white marble which stands gleaming among the versatile & busy market of Chandni Chowk. Notably, the environment inside is completely different from outside, offering its visitors a peaceful & spiritual environment. The inner sanctum enshrines the Guru Granth Sahib- the holy book of the Sikh community, a community kitchen (Langar), and a hall for devotees to offer prayers. 
The Sikh community has always been known for its valor, generosity, tolerance, equality, and selfless service. The Gurudwara Sis Ganj Sahib is not only a religious place but also a valuable lesson from our history. 
5. Raj Ghat: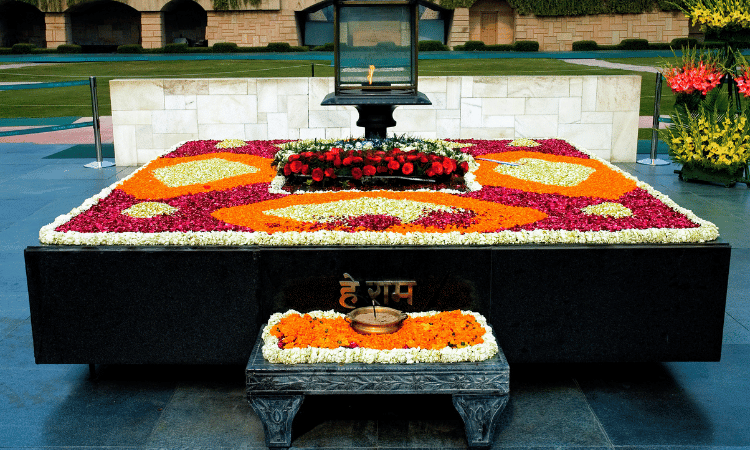 Mahatma Gandhi- the father of the nation died in 1948. He left his body & country but his ideas never left us. The then-present government did his last rituals and Gandhi Ji was cremated on the banks of Yamuna River in Delhi. That site now is a solemn place named Raj Ghat. 
Rajghat is a solemn for grief, humbleness, and purity. The whole site is made up of black marble and there is a platform that has 'Hey Ram' inscribed on it. These were the last words of Mahatma Gandhi. The Rajghat is a reflection of Gandhi Ji's virtues, lifestyle, and message of non-violence. 
The Rajghat is surrounded by a garden with beautiful trees. If you're tired of the city's day-to-day hustle life, come here and gain some moments of oneness with our great ancestors. The site has now become a pilgrimage destination for Gandhi's followers and attracts tourists from all over the world. 
The Rajghat is not just a site to visit. It is a living reminder of Gandhi Ji's teachings, his life, and ideas of truth, non-violence, and equality. A person who is looking for inspiration & humbleness in his life must visit once in his lifetime. 
6. Arun Jaitley Stadium: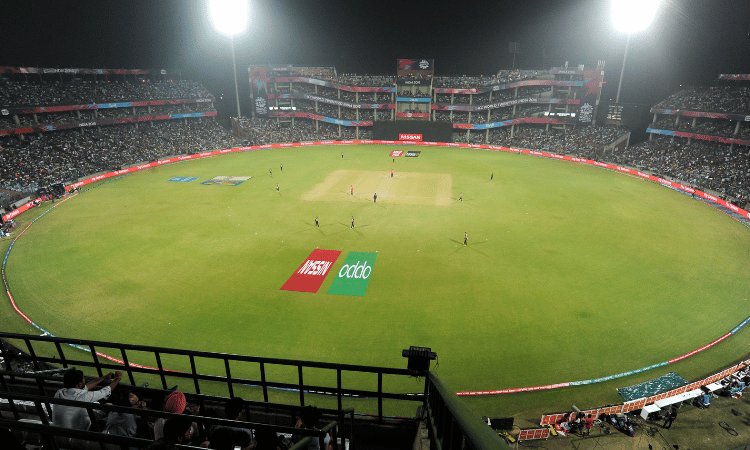 Formerly known as Feroz Shah Kotla Stadium, the big hallowed cricket ground is now a second home to cricket lovers, fans, and players alike. Recently the Government has changed it's name to Arun Jaitley Stadium to give gratitude to the late politician & finance minister of India. 
The iconic stadium has witnessed historic cricket matches and has witnessed the most iconic moments of Indian cricket. The cricket ground also has proximity to the historic Feroz Shah Kotla Fortress back to the 14th century which makes it a good place for history lovers as well. 
The stadium has a 40,000 seating capacity and all amenities for offering an electrical experience during matches. Moreover, this place has records of legends playing cricket matches here and engraving their names in the cricket history. The Arun Jaitley stadium is not a mere cricket ground but it carries the spirit & legacy of Cricket Ground. 
7. Gandhi Museum: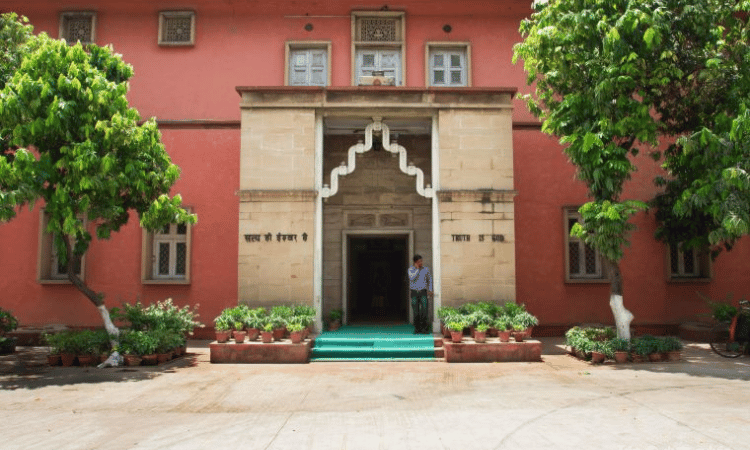 Gandhi Museum is located in Delhi near Chandni Chowk and serves as a living tribute to the father of the Nation. His life & philosophies have always been enlightening the whole world. Albert Einstein once said that Generations to come will scarcely believe that such a one as Gandhi ever in flesh and blood walked upon this earth. Visiting this place offers a glimpse of why he said this. 
Gandhi Museum is built where the great leader has spent his last 144 days before his assassination. It is more than just a museum as it is the home of his belongingness, photographs, letters, and writings of Mahatma Gandhi. They offer a comprehensive insight into his extraordinary journey. The place where he was shot, stands the Martyr's column which represents the sombre reminder of the sacrifices that our freedom has cost. 
Gandhi Museum was previously known as Gandhi Smriti. It's a beacon of inspiration, a place that radiates the Gandhian values of truth, non-violence, and simplicity to visitors. Here the visitors connect with the iconic figure of Indian history in spirit & ideas. 
Conclusion:
Delhi, the capital city of the country, always keeps its hands open to visitors from all corners of the world. The historic Chandni Chowk is among the must-go places to visit with family in Delhi. If you're in Delhi or planning to go, don't miss these 7 places where you will get to see the history, present, and future of our country.