All gourmands and connoisseurs are invited! Look no further than Omaxe Chowk Dawatpur if you want to enjoy a meal that perfectly balances innovation and tradition. This culinary paradise tucked away in Delhi's bustling Chandni Chowk is more than simply a shopping center; it's a celebration of the flavors, fragrances, and rich history that make Chandni Chowk what it is. As we explore the delicious delights of Omaxe Chowk Dawatpur, the ideal gastronomic destination, be ready to enjoy a feast of flavor and entertainment.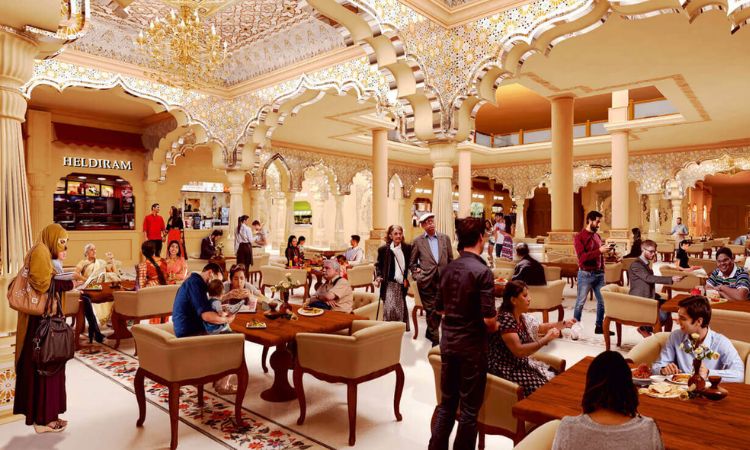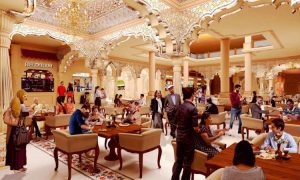 Chandni Chowk: A Culinary Legacy
For many years, Chandni Chowk, with its vibrant alleyways and antique beauty, has been a gastronomic treasure trove. It is a location where traditional recipes and cutting-edge street cuisine inventions converge in a symphony of flavours. However, navigating its congested roads might occasionally be difficult. Parking is also a major issue currently. To solve these aspects, Omaxe Ltd. has partnered with the MCD to come up with a massive parking facility that can accommodate 2,200+ cars. There is also a pressing need for organized retail and dining in Chandni Chowk. Omaxe Chowk is the project that fills the void by offering a contemporary and well-organised retail experience along with a mega food court called Dawatpur that honours Chandni Chowk's culinary heritage.
Food Court Wonderland
Imagine entering a place where the air is filled with the aroma of spices, the sizzle of grills, and the laughter of other food enthusiasts. Omaxe Chowk's food court called Dawatpur is the place to be for this culinary extravaganza. It's more than simply a place to dine; it brings you to the centre of Chandni Chowk's street food scene with its carnival of flavours and fragrances. Many popular Indian and international brands have become a part of Dawatpur, like Haldirams, Biryani Blues, KDH Chaat, Dominos, House of Candy, and Subway. Each meal here tells a tale of the colorful food culture that characterizes this renowned region, revealing a world of culinary wonders just waiting to be discovered.
Every delicacy you imagine is contained in one magnificent place. The Dawatpur as the biggest food court in Delhi is a true home for pure delectable favors, that have directly appeared from the pure Indian historical era that was filled with the ultimate culinary experiences.
From the mild to the super spicy flavors of North India to the finger licking flavors of central India to the simple yet delicious menu from south India , Dawatpur has everything for everyone. Along with it, this food nirvana presents you with the traditional delicacies of Chandni Chowk for the local food lovers. These lip-smacking delicacies have journeyed through time and hopped directly to flavorsome sophistication under the grandness of Omaxe Chowk that your and your loved ones' taste buds will never forget.
Omaxe Chowk: Where Tradition Meets Modernity
The Omaxe Chowk is not your typical shopping centre; rather, it is a symbol of the peaceful cohabitation of the past and current. Its architecture skillfully combines modern design aspects with the past's majesty. The outside honours Chandni Chowk's historic appeal, while the inside offers a large, cosy, and energetic environment for both dining and shopping.
The Largest Mall, The Grandest Experience
Omaxe Chowk is the biggest mall in Delhi with the biggest food court in India called Dawatpur. However, the statement refers to more than simply physical size. They refer to the wonderful experiences it provides for shopping and culinary connoisseurs. The mall offers numerous companies that appeal to all interests and inclinations, from high-end fashion to regional artists. But what distinguishes it is the dedication to providing an unequalled gastronomic encounter.
Culinary Wonderland: India's Largest Food Court
Get ready to feel your taste buds tingle since Omaxe Chowk is home to Dawatpur, the biggest food court in India. This is nothing short of nirvana for food lovers. With a large seating capacity of over 1600, the food court offers an unrivalled variety of options and is a melting pot of genuine regional Indian specialities and other cuisines. Every dish is a tribute to the culinary treasures of Chandni Chowk, from fragrant biryanis to delicious curries, from crunchy street snacks to luxury sweets.
Fun and Entertainment in Omaxe Chowk
What sets Omaxe Chowk apart from any other mall in Delhi is the all-inclusive experience it offers to visitors of all ages. While the Dawatpur food count of Omaxe Chowk will be a gastronomic delight for adults, the kids will also have a special treat for their entertainment. Omaxe Chowk offers a dedicated funtainment zone for kids. So, while you are shopping or relishing the diverse cuisines in Dawatpur, let your kids have fun to their heart's content.
Capturing the Essence
Several renowned restaurants in Chandni Chowk have relocated to Omaxe Chowk Dawatpur. Imagine savouring the famed kebabs from Karim's or the famous parathas from Paranthe Wali Gali. You may savour the time-honoured flavours of Chandni Chowk's cuisine at these establishments, which perfectly encapsulate the culinary tradition of Chandni Chowk.
Conclusion
Omaxe Chowk Dawatpur is more than simply a place to go; it's a sensory journey that captures the spirit of Chandni Chowk's gastronomic wonders. Every bite is a voyage through time and flavour, where innovation dances with history. Omaxe Chowk Dawatpur delivers a memorable feast for any foodie, whether you're a native looking to rediscover Chandni Chowk's flavours or a tourist keen to discover Delhi's culinary legacy. So, strap up and let this paradise for foodies take your senses on an exciting journey!