In today's busy life, everyone wants to spend time with their family and partner. The best way to spend time and make it memorable is to sit and eat together. If you want to spend time with your family, close friends, or partner and are looking for a place that will make every moment memorable, today's article is going to be very helpful for you.
If you live in Delhi or are going to visit here, we are sharing a list of the best food courts in Delhi which you can choose from. To enjoy aromatic and spicy dishes at affordable rates, you must go to the places mentioned below. All these places mentioned here have been designed so well that people can enjoy both shopping and dining. The richness of the food heritage resides in it.
1.) Omaxe Chowk, Chandni Chowk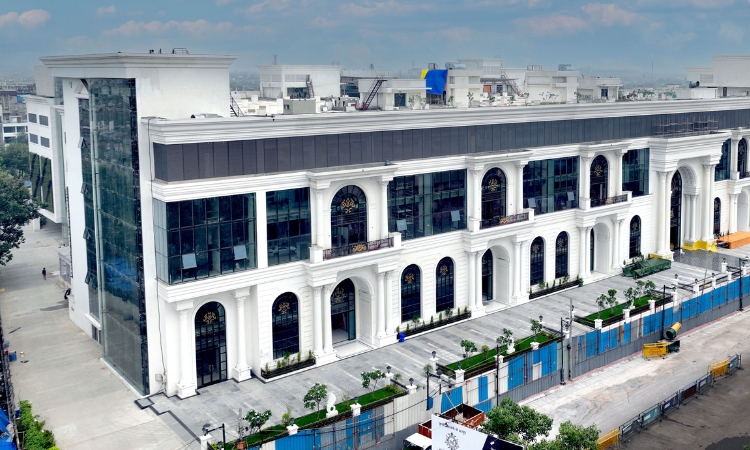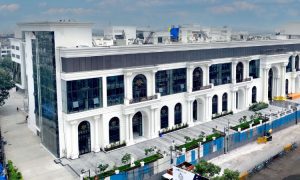 If you are looking for the biggest food court in Delhi, let us tell you that Omaxe Chowk Mall is a good option for you. Omaxe Chowk is the largest food court in India located in Chandni Chowk, central Delhi. It spreads over a 1 lakh square feet area where more than 2,000 people can sit. It is highly famous for its rich food culture. 
Being the largest food court in India, its food heritage is extremely strong. Omaxe Chowk allows QSRs with multiple service options, a variety of brands, and casual dining restaurants to establish their presence. There are so many famous food item brands here including Sagar Ratna, Haldiram's, Pizza Hut, KFC, Wow Momos, Barcos, etc.
You can also try Burger King, Subway, Biryani Blues, Nanking, Domino's, Wow China, Amritsari Express, Wah Ji Wah, Heera Sweets, Maska, etc. Apart from this, it continues to tie up with various domestic and international M&B brands like Bonju's, Chicago Pizza, Jang Bahadur Kachori, Gaya Prasad Prant Wale, Kunwar Ji, KDH Chaat, Nazir, etc.
According to the JLL report, 4 lakh to 6 lakh tourists come here every day to enjoy sightseeing, shopping, and tasting the rich food present here in Chandni Chowk. Omaxe Chowk, an organized food venue offering an exclusive mix of diverse brands under one roof, attracts shoppers and visitors with its unique experience. As a business destination for the next generation, Omaxe Chowk boasts high-tech facilities and contemporary amenities. 
2.) DLF Cyber Hub, Gurgaon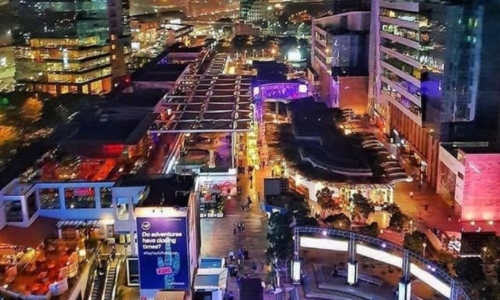 A huge retail area called DLF Cyber Hub is located in Gurgaon DLF Cyber City. There are many food and drink options available in DLF Cyber Hub. If you want to enjoy live music along with delicious food, Farzi Cafe in DLF Cyber Hub is an amazing option for you. 
As per our research, we have found DLF Cyber Hub to be the second-largest food court in Gurgaon. This cyber hub has many popular places that you can enjoy including Farzi Café, Burma Burma Restaurant, and Tea Room, Made in Punjab, Dhaba Est 1986 Delhi, Soi 7, Viet Nam, Café Delhi Heights, Café Maze, Chillies and Curry House Coco Ichibanya etc.
All these places have different specialties with Farzi Café being highly loved for its traditional wooden interiors and overall delightful ambiance while Dhaba Astd 1986 Delhi is highly loved for its chic outdoor setting and spicy Delhi-style food. There are many popular places in DLF Cyber Hub and as per us, DLF has the second largest food court in Delhi in terms of space which you can enjoy here.
You must try Caesar Salad, Black Pepper Sauce Toast Noodles, and Lamb Chops here. Dishes from different places like Burma cuisine, Japanese cuisine, American cuisine, Vietnamese cuisine, Asian cuisine, Mexican cuisine, Mediterranean and Middle Eastern cuisine, etc. are famous here. 
Apart from this, there are many other small hubs where many delicious dishes from different cultures are available like delectable Burmese dishes, alcoholic beverages, cocktails, Kalmi Kebab, Lol Tikki, Tariwali Macchi, Vietnamese delicious finger food, Vietnamese, Pan Asian dishes including Mango Curry, Spirits, Wine, Chicken Kaslu Curry Rice, Chicken Cutlet Curry, Hummus and Pizza, etc.
3.) Epicuria, Nehru Place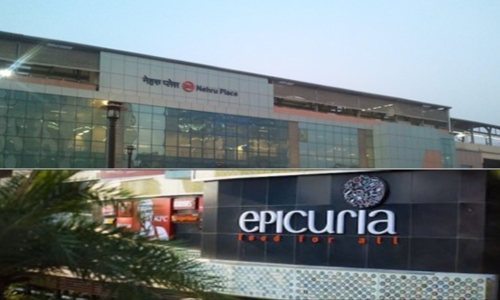 Epicuria Food Mall has launched its top floor at Nehru Palace with dining restaurants like Fio and Benihana. It is also included in the list of the biggest food court in Delhi. The mall is located near Nehru Palace Metro Station and has become a food destination due to its location. Epicuria Food Mall offers its customers everything from South Indian to continental culinary delights. 
Famous food restaurants, cafes, and eating places here include Nando's, Dimcha, Social, Dhaba by Claridges, The Irish House Taco Bell, etc. The delicious cuisine here includes tandoori pizzas, salads, breakfast dishes, huge burgers, chaats, platters, desserts, main courses, etc. 
Classic Chicken Tikka, Josh Jalapeno Tikka, Mutton Seekh, Egg Tikka, etc. are served with mint chutney. If you prefer vegetarian food, there is also a completely vegetarian thali called Abra Kebab-Ra Platter which includes delicious dishes like Multani Mushroom, Paneer Tikka, Tandoori Momos Soya Chaap, etc.
4.) Culture Gully, Kingdom of Dreams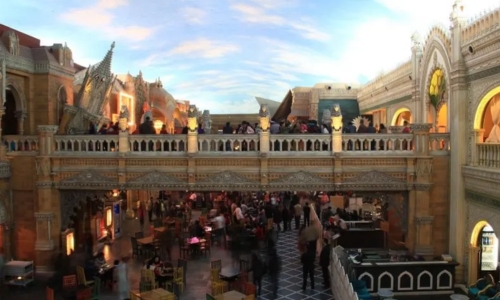 Although eating street food is not a good option during monsoon days, if you get to eat many interesting dishes under one roof, you will want to taste it. You can enjoy your favourite cuisine at Culture Gully located in Kingdom of Dreams, Delhi.
Be it Jalebi, Chaat, Kebab, or Chole Kulche, everything is available on the menu of Culture Gully. If you like to eat vegetarian dishes, you can enjoy Nadru Kebab. Here potato malai, lotus stem, mushroom, etc. are used along with many spices.
Mint pineapple tikkas are also available here which are very tasty. In Culture Gully, you can also enjoy a famous dish, Dahi Ke Kebab. If you are fond of non-vegetarian food, you can also enjoy Tandoori Jhinga, Mutton Dehlvi Ginger Skeek, and Dhaba Style Murgh Tikka. If you look at the list of the biggest food courts in India, you will see Culture Gully as one of the best dining.
If you have never tried Jalpari Arbi Salad, you can taste it. Here you will get to enjoy radish walnut chutney, Fatehpuri fried chicken, ruddy fish tikka, upside down pan paratha, Hariyali vegetable of Matia Mahal, besides Shahi Tukda of Jama Masjid, and Phirni of the streets.
As soon as you go to the Culture Gully food court of Kingdom of Dreams, you will enjoy the extremely famous and delicious food from different states of India. Every moment you spend in Culture Gully will become a memorable moment for you forever.
5.) Dilli Haat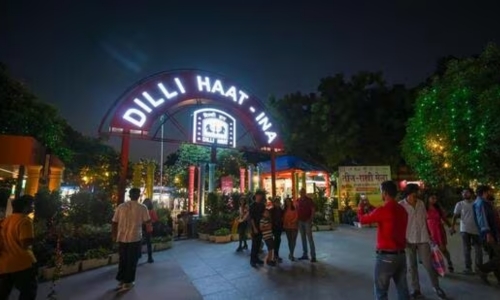 If you are looking for a great food court in Delhi, Dilli Haat is a good option. Dilli Haat is a centre of traditional culture which is one of the best places for a variety of food items in Delhi. Here you get to see traditional food. While searching for Chandni Chowk's famous food, you will find a lot of famous dishes here.
Famous food items here include famous dishes from West Bengal, Maharashtra, Rajasthan, Andhra Pradesh, Assam, Nagaland etc. These include Fish Curry, Kosha Mangsho, Momos, Fruit Beer, Fried Rice, Pyaaj Kachroi, Desi Ghee Jalebi, Rajasthani Thali, Vada Pao, Puran Poli, Shrikhand, Kebabs, Biryani and Phirni etc.
It facilitates an organized and seamless retail experience for shoppers and visitors. There are a variety of brands associated with it and this food court is 80% leased. The food court here serves a mix of brands ranging from Chinese, Mughlai, and North Indian cuisine to the best of all the famous street foods. 
6.) Select Citywalk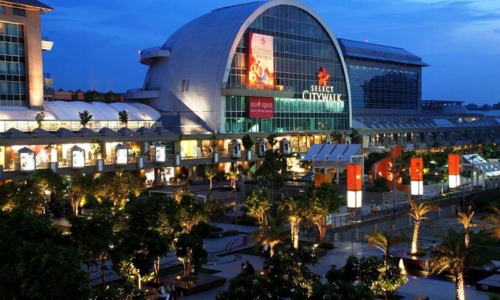 Select Citywalk is one of the largest and most highly preferred malls with the  6th best food court in Delhi. In this mall, you will find Kids John, a Multiplex, a Cafe, a Food Court, and luxurious restaurants. At Select Citywalk, you get a chance to enjoy all the dishes from Indian to Continental as per your taste. 
Along with this, you also get snacks, desserts, and all types of food outlets here. The famous food items here include Chinese, Italian, Thai, Arabic, Indian dishes and many other dishes. Every dining experience at Select City Walk is exquisite and unique for everyone.
This restaurant is one of the best vegetarian food restaurants. It has a very beautiful ambiance with an excellent theme, a variety of delicious dishes, and courteous staff making it the most popular restaurant in Delhi. This restaurant also has options for dishes without onion and garlic. Select City Walk Food Court is spread over 10,000 sq. ft. My Square. 
City Walk also has a number of exclusive fine dining restaurants and a PVR Cinemas multiplex with 6 screens including two Gold Class and a seating capacity of 1235. Globally acclaimed French restaurant Pol is now open in Select Citywalk, Delhi. Apart from this, if you did not drink the delicious sparkling green tea and bubble tea of this restaurant, what did you do? Raw mango salad and samosa soup are very important and delicious dishes here.
7.) DLF Mall of India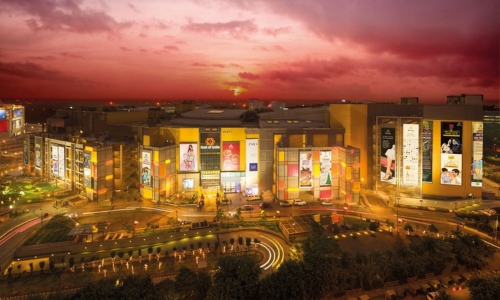 DLF Mall located in Sector 18, Delhi is one of the most popular malls with one of the biggest food courts in India after Omaxe Chowk. Some people come to this mall to shop, some to enjoy entertainment options, and some to enjoy food. This huge mall is spread over 2 million floors and is spread over an area of 2 million square feet. 
There are more than 75 food restaurants and eateries present in this mall. DLF Mall of India was opened for business in the year 2016 but now it has become an entertainment destination for all the people. Most of the food lounges are located on the fourth floor of the mall which is also spread over the other six floors of the mall.
When you visit the Eat Lounge on the 4th floor of DLF Mall of India, there are a variety of options for you to choose from, ranging from local flavors to international cuisines. Food items here include Kylin Experience, Dakhin, K Se Kulcha, Daryaganj, Noida Social, Haldiram's, Turquoise, Pitapita, Gola Sizzlers, TWG Tea, etc. The entire mall has 80 kiosks, 330 brands, five customised shopping zones, a 7-screen movie theatre, and 75 food and beverage options.
When it comes to family dining, there are a variety of delicious food options to choose from on the third floor of the mall. Like Cafe Delhi Heights, Made in Punjab, Mamagoto, The Big Chilli Cafe, Chilli, Burma Burma, Soda Bottle Openerwala, Pirates of the Grill, Noida Social, etc.
Conclusion 
To end with we have talked about some of the finest food courts in India as per our research. Our research has shown that all these are worth visiting again and again and on top of this list we have found Omaxe Chowk to be the most preferred one among people. So do visit there as you will never forget the experience and would wish to visit it again and again.
If you like the information, share it with your friends and relatives as well. Book a seat for yourself in these food courts in Delhi and enjoy it a lot.