Over the past few years, local authorities of Delhi have taken several initiatives to revamp Old Delhi. During the redevelopment of one of the most iconic areas of Old Delhi, Chandni Chowk, Omaxe Ltd took up the challenge to present a project combining modernity and the old-world charm of Chandni Chowk. Their project, Omaxe Chowk, is not just one of the biggest malls in Delhi. It also has the biggest retail centre and food court in Old Delhi. The bustling intersection of modernity and cultural history shows how tradition and development can co-exist harmoniously. While providing for the residents' modern necessities, this urban development project has effortlessly captured the spirit of Old Delhi.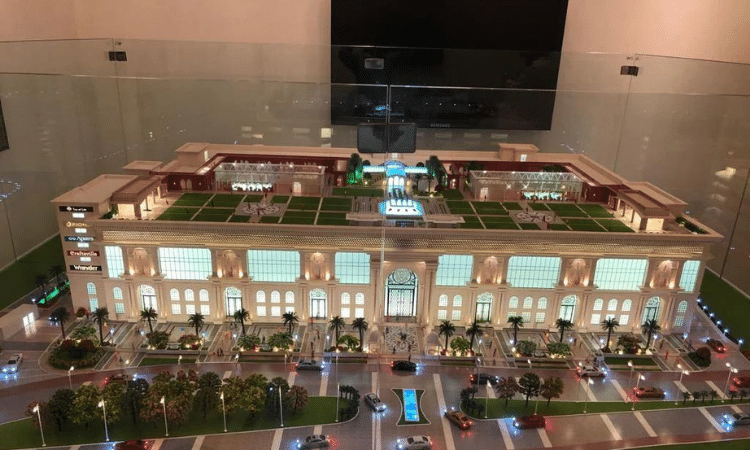 A Touch of Modernity in Old Delhi
A reservoir of India's rich cultural past has long been found in Old Delhi, with its maze-like streets and Mughal-era buildings. Adding contemporary components while preserving the historical context was a difficult problem. However, Omaxe Ltd managed to overcome such challenges with their Omaxe Chowk project. By blending new construction into the existing environment, Omaxe Chowk achieves the goal of harmoniously fusing old and new architecture.
Architectural Marvel
The buildings' elaborate patterns and designs are reflected on their facades, ensuring the new construction blends in with the neighbouring landmarks. By preserving Old Delhi's beauties while adding a new element, this architectural fusion provides. Spanning 4.5 acres of land, Omaxe Chowk has a total built-up area of more than 10 lakh sq. ft. Its architectural style, a blend of Indian, Mughal and British architectural elements, honours the area's historical significance.
A Boost For Local Businesses
Omaxe Chowk is situated in one of the busiest places of Chandni Chowk. Therefore, businesses in Omaxe Chowk receive a great boost in their business. While it had initially been a worry for local small businesses, Omaxe Chowk has proven to be a boon for them. Omaxe Ltd has given a higher preference to local businesses like Hira Sweets and Chhabra 555. The market offers various products, from antique jewellery and handicrafts to cutting-edge clothing and gadgets. It honours the commerce tradition for which Old Delhi is famed while demonstrating how the demands and preferences of the populace have changed.
This place also has the best food court in Chandni Chowk. Omaxe Chowk's Dawatpur, the biggest food court in India with a seating capacity of over 1,600 people, offers a unique gastronomic experience by perfectly fusing tradition and contemporary flavours. Some of the biggest and most popular names, like Haldiram and Amritsari Express, have become a part of Omaxe Chowk.
World-class Facilities and Amenities
The project incorporates cutting-edge mobility technology to make it convenient for locals and visitors alike. When it comes to delivering the best shopping experience, Omaxe Chowk will surely not disappoint anyone. One of the biggest issues of Chandni Chowk, Old Delhi, is the lack of parking spaces or poor parking facilities. With a multi-level parking facility for over 2200 cars, Omaxe Chowk has solved the potential parking woes of visitors.
A Landmark Destination in the Heart of Chandni Chowk
Located on the HC Sen Marg, you can easily find the location of this place through GPS by typing "Omaxe Chowk Chandni Chowk". Moreover, Omaxe Chowk will have a dedicated on-site metro station for Chandi Chowk, making travelling easier for everyone.
To sum up, the Omaxe Chowk serves as a superb illustration of how modernisation and traditional heritage may live peacefully. The proposal offers a venue that honours the past while embracing the future by fusing traditional architecture with modern infrastructure. It serves as a reminder that development should not undermine heritage but should instead enhance it. Some of the good restaurants in Chandni Chowk are on board the Omaxe Chowk project. So, Omaxe Chowk awaits visitors with unique experiences in store.