Shopping in Delhi will always be associated with Chandni Chowk Market. You will eventually arrive in Chandni Chowk if you are shopping in Delhi. Chandni Chowk, Delhi's oldest and busiest market, is known for its crowded streets and 1,000s of shops that sell a wide variety of goods, including clothing, electronics, books, furniture, and an endless list of other items. Chandni Chowk, one of the largest markets of its era, is peppered with havelis, kuchas, and gallis that tell tales of a bygone era. You have a unique Delhi experience on your hands when you combine that with the historic Jama Masjid and the commanding Red Fort.
However, navigating the maze-like market of Shah Jahan, the Mughal emperor, built in the 17th century, can be a little overwhelming. You won't need to worry because our Chandni Chowk shopping guide will give you a clear idea of where to buy what and in which of the area's most popular markets.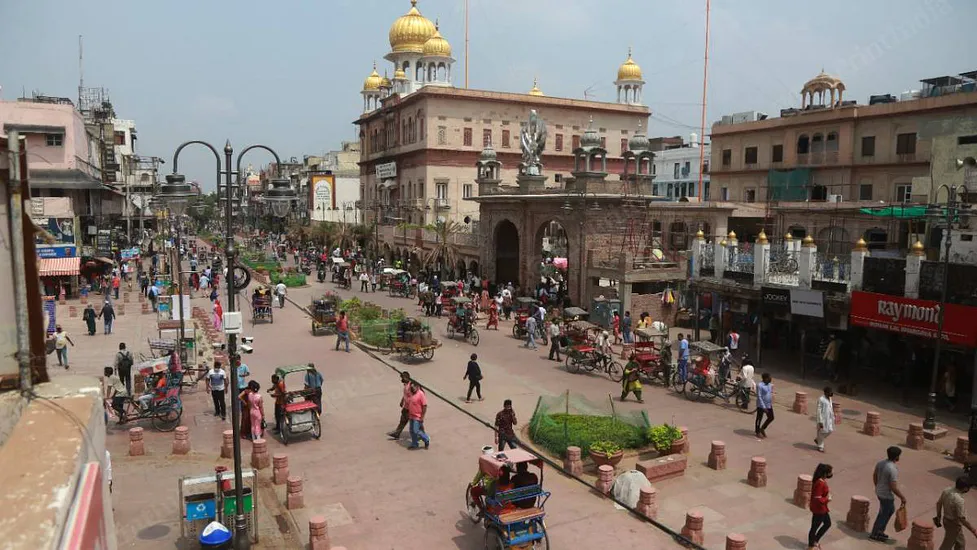 About Chandni Chowk
Shah Jahan, the Mughal Emperor, founded Chandni Chowk, also known as "Moonlit Square," in the 17th century. One of Delhi's oldest and busiest markets, it was created to serve as a commercial hub. The market is distinguished by its congested streets, little lanes, and lively atmosphere. With its stunning architecture, important historical sites, and varied selection of shops, it has maintained its old-world charm.
Famous Markets to Shop in Chandni Chowk 
This market offers a wide variety of goods for purchase. The Chandni Chowk market gives you the chance to buy or sell a wide selection of colourful perfumes, clothing, electronics, toys, candles, lifestyle items, and idols of deities.
List of places with their brief information
Kinari Bazaar: Known for its extensive selection of wedding accessories, including embroidered fabrics, zardozi borders, tassels, and embellishments, Kinari Bazaar is located in the city of Kinari. Anyone searching for distinctive trinkets or traditional Indian clothing must go there.
Dariba Kalan: The stunning collection of silver and gold jewellery at Dariba Kalan is well-known. This market offers a variety of options for jewellery lovers, from elaborate designs to statement pieces. Make sure to browse the many stores to find the ideal item to bring home.
Nai Sarak: With a variety of bookstores offering a sizable selection of books on various topics, Nai Sarak is a haven for book lovers. Whatever kind of book you're looking for—novels, children's books, or academic tomes—Nai Sarak has it.
Khari Baoli: According to Khari Baoli, it is the largest spice market in Asia. A wholesale grocery store is located here. Here, you can find all different kinds of herbs, nuts, spices, and food items. At Chandni Chowk's westernmost point, it is located. A large variety of spices are available at the market.
Things to do 
Take a rickshaw ride: Travel through Chandni Chowk's congested streets in a vintage cycle rickshaw. It's an exciting and enjoyable way to move around the busy market and take in the bustling street life.
Visit Jama Masjid: Jama Masjid is one of the biggest mosques in India and is close to Chandni Chowk. Spend some time exploring this architectural wonder and taking in the serene atmosphere of this historic site.
Enjoy the street food: a trip to Chandni Chowk wouldn't be complete without sampling some of the regional specialties. Enjoy delectable foods like parathas, chaat, kebabs, and jalebis at the renowned food stalls and stores.
Places to visit near Chandni Chowk
Dariba Kalan, Delhi
Dariba Kalan is where you go to update the jewellery box; it's marked with delicious jalebi shops. Silverware for the home, silver utensils, lovely silver trinkets, affordable quality costume jewellery, and ittar, that seductive Indian perfume, fill the shops here. This one seems to be taken directly from Arabian Nights!
Nai Sadak, New Delhi
With its rows of stores selling books for school and college, textbooks and study guides for competitive exams, and stationery supplies, Nai Sadak (that doesn't look new at all now!) immediately brings you back to earth after Dariba Kalan's surreal appearance. Lastly, you simply must have that item because brand-new notebooks, crisp labels, stacks of notepaper, and fresh pens are all irresistible.
Bhagirath Palace in Delhi
Bhagirath Palace took God's command, "Let there be light," very seriously. There isn't a store in this confusing market that doesn't offer lamps, chandeliers, hanging lights, fairy lights, or even simple light bulbs. Bhagirath Palace is situated in what was formerly Begum Samru (one of the most powerful female rulers in Mughal India) palace in Chandni Chowk, which is thought to be Asia's largest market for electrical and electronic goods. Although the market may seem like a disaster waiting to happen, it is where you can buy that chandelier.
Delhi's Katra Neel
Near Chunna Mal ki Haveli, a historic grand mansion from the 19th century, is Katra Neel, which was formerly an indigo market. These days, it is well known for the jewellery and finery shops that sell wedding attire. Here, one of the original Raymond stores was established, and the market today takes pride in its many stores selling fine textiles, menswear, and the sole wholesale store for Mehndi. You are aware that henna is a must for weddings!
Delhi's Fatehpuri Market
If paneer is a delicacy native to Delhi, then Chandni Chowk's Fatehpuri Market is its epicentre. Fatehpuri Market is renowned for being a unique wholesale trading hub for paneer and khoya as well as for items for weddings and prayer accessories. In addition, there are a lot of aloo puri vendors, kulfi vendors, and chole bhature vendors in this crowded market.
Travel Tips and Recommendations
Best time to visit
Best Season to Visit: The winter season, from October to March, is the best time to visit Chandni Chowk because the weather is comfortable and conducive to walking around the market.
Chandni Chowk is conveniently reachable by metro. The Yellow Line's Chandni Chowk station is the nearest metro stop. Additionally, it has excellent bus and taxi service.
Must-try street food and snacks
Paranthe Wali Gali: Chandni Chowk's well-known lane is a haven for fans of parathas. Enjoy stuffed parathas with a variety of fillings, such as potato and paneer or banana and rabri.
Visit the renowned Kulfi shop at Kuremal Mohan Lal Kulfi Wale to escape the heat. Try some of their unusual flavours, such as paan, saffron, and rose, to taste the rich, creamy flavour of authentic Indian ice cream.
Conclusion
One of the first markets in Old Delhi was Chandni Chowk Market. In the neighbourhood of three centuries, the market is old. This market was built by the Mughal emperor Shah Jahan, and the pedestrian-friendly street was created by Jahanara. Currently, Delhi's busiest markets include this one. Market vendors line the shopping street.
A trip through history, culture, and vibrant colours is what Omaxe Chandni Chowk offers. This thriving market has something to offer everyone with its renowned markets, distinctive stores, and delectable street food. Chandni Chowk should be on everyone's travel itinerary if they love to shop, learn about history, or enjoy good food. Create lasting memories in this magical market by getting lost in the chaos, discovering hidden treasures, and doing all three.