Street food is a big part of Delhi's rich culture. One who eats such food can not forget its spicy and tasty delicacies. Its food culture mirrors the rich history of the country as well. Delhi is known for its heart, which is why it is known as "Delhi Dilwalon Ki". Once you become habitual of eating Delhi food, there is no going back.
Through this article, we will be presenting – "Delhi ka famous food" by exploring the must-have foods that define Delhi's food culture.
At the centre, this is a culinary story that reflects on the cultural food history of India in general and Delhi in particular. This exploration explores all the exciting food experiences one needs to try whenever in the city.
Chandni Chowk is known for its food and rich market experience. Once you enter the market area you will start seeing famous food in Chandni Chowk.
List of Famous Street Foods in Delhi:
Chole Bhature: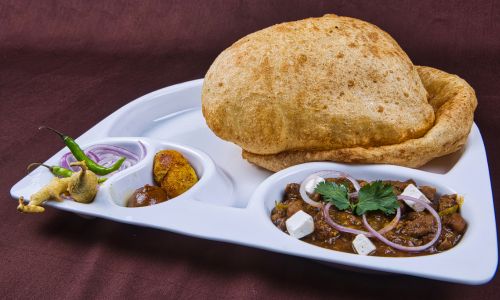 If you ask someone which is "Delhi ka famous food", Chole bhature will top the charts. Imagine the optimal taste combination of sweet and hot crispy deep-fried bhature and spicy hot chole. Chole loaded with aromatic spices will tantalise your taste buds while bhatura gives an appropriate surface to this North Indian delicacy.
Delhi's chole bhature presents a variety of taste and texture sensations that make it an unforgettable gastronomic adventure.
Gol Gappe: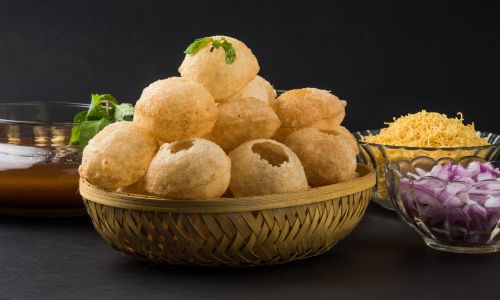 This is again one of the famous street foods in Delhi. Take a taste adventure of your life with gol gappe – the archetype of Indian street food. The indulgent puran poli takes crispy, hollow puris, and fills them with a zingy mixture of spice, sour water, tamarind chutney, and mashed potato bursts.
Every bite is made up of explosive combinations of textures and tastes which results in a carnival for your senses. Such makes Gol Gappe an irresistible street side treat leaving you craving for the next burst of flavours.
Kathi Rolls: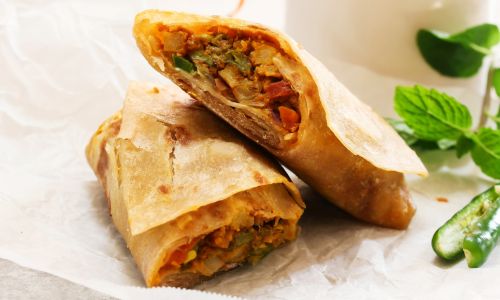 Let kathi rolls envelop your taste buds! Warm and flaky paratha snuggles up with succulent kebabs, whether meaty or paneer. Kebab on paratha is one hand-held masterpiece with smoky aromatic flavours merging in deliciously soft bread. The flavours, in every bite, create an overwhelming experience, and it is easy to become addicted to Kathi rolls as one pursues a gastronomic feeling.
Aloo Tikki: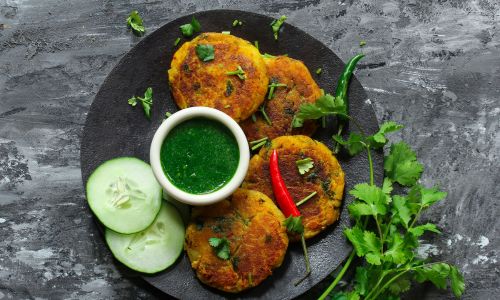 When in Old Delhi, If you don't try Aloo Tikki, it will never be worth visiting. Aloo Tikki is again a Delhi ka Famous Food. The taste and texture of this aloo tikki is one of the marvellous foods available on Delhi streets. This is another popular snack similar to French fries.
Kebabs: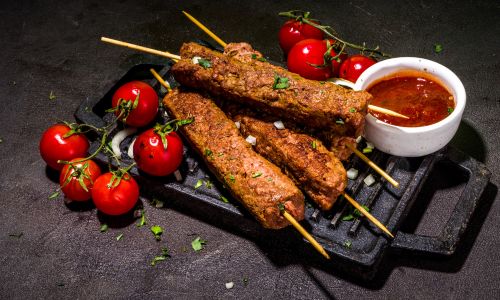 Old Delhi's famous kebab culture offers endless delicacies like shami kebabs and seekh kebabs. These kebabs are nothing short of flavorful perfection. You can easily find famous food stalls in Chandni Chowk to eat kebabs.
Dahi Bhalla: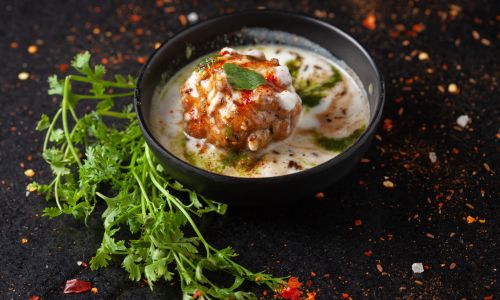 Again one of the Chandni Chowk famous foods is Dahi Bhalla. You can refresh your palate with Dahi Bhalla which is soft lentils dipped in yoghurt. Dahi Bhalla is mostly served and decorated with chutneys.
Ram Laddoos: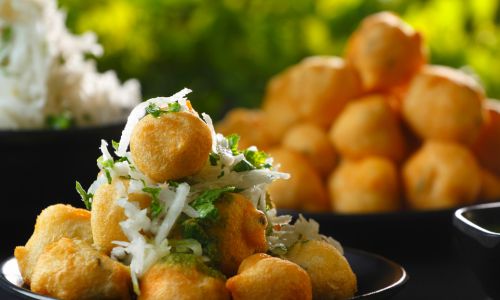 The sweet indulgence into deep-fried lentil fritters, or Ram Laddoos. It has a crispy exterior which breaks down into a soft one, adding more fun is the sour tamarind chutney.
These golden specialities come hot out of a street food shop's fryer, leaving you clamouring for another serving of that crispiness and rich taste.
Enjoy tasty vegetarian street food as you satisfy your cravings with the deep-fried goodness of Ram Ladoos. This is also known as lentil fritters.
Parathas: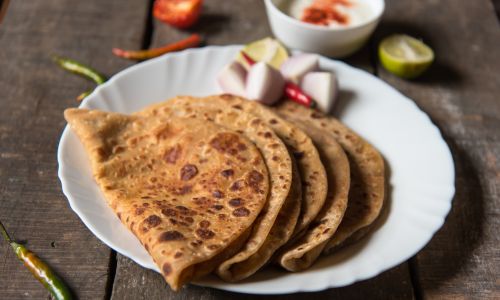 Parathas decorate the streets of Delhi and are a true art filled with potato masala or cottage cheese. It is the crispy and yellowish outer covering that conceals blends of different tastes inside it leading to taste harmony.
The parathas on Delhi's streets go well whether paired with chutney or curds. Eating such makes one feel full and warm, making one enjoy every mouthful of the sweet taste and its richness.
You can find parathas at every corner of Delhi. The filling of parathas is quite heavy and full but that suits just the taste of the city's street cuisine.
Rabri Falooda: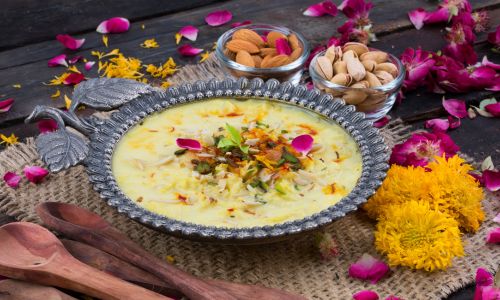 If you are a dessert fan then, Rabri Falooda is a must-try. It has made a separate space in the hearts of Delhi Wallas. You will easily find different famous food stalls in Chandni Chowk selling Rabri Falooda.
Jalebi:
The jalebi which has been dipped in the rich sugar syrup has a golden coil of sweetness. It's always a pleasure for the tongue as each bite becomes an adventure towards the sugar heaven with its crunchy surface that reveals a liquid inside.
Jalebi (the most common street food) is celebrated as an act of indulgence where even thinking about the perfect sweet-sour combination would make your mouth water.
Cap the culinary journey with jalebi, golden-coiled sweets dipped into sugar syrup, an oldie but goodie treat.
Bedmi Puri and Aloo Sabzi: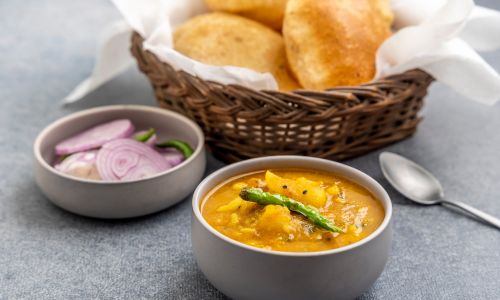 This Delhi ka famous food is a breakfast for many Delhiiets. One can start their day with bedmi puri/aloo sabji in this path of Delhi's food. This is one of the most loved dishes in the morning. It includes puris/stuffed with aloo sabji/spicy potato curry.
Momos: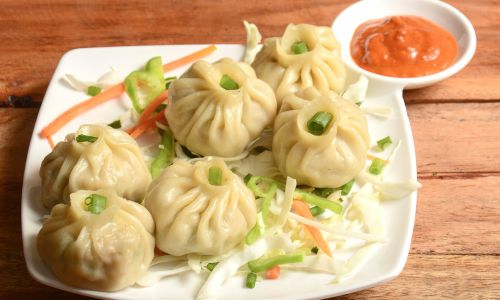 The vibrant streets of Delhi are spiced up by tantalisingly delicious momos and dumplings or momos. Every bite explodes with umami and the crumbly thin encasing gives way to the juicy stuffing.
The city's diversity can be reflected in different types of momos, either cooked or fried; they provide an attractive taste and make you want for more.
Kulfi: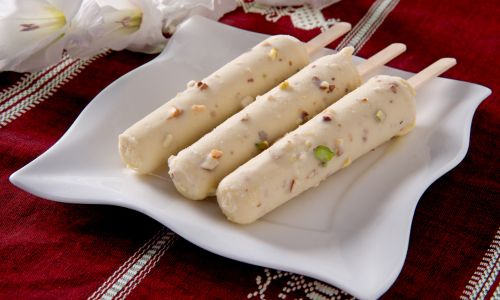 For the summer in Delhi try the local version of an ice cream called Kulfi. Each bite is a voyage into creamy decadence served in different flavours. From the old-flavoured Malai to exotic Mangao, Kulfi on Delhi's streets is a cold and pleasant delight which will satisfy your thirst at any time.
Matar Kulcha: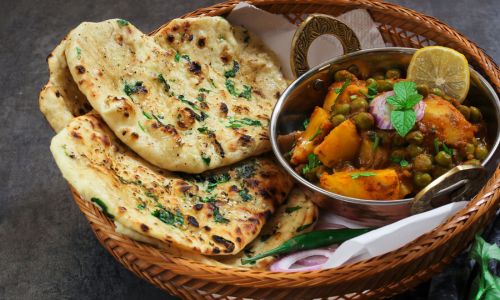 Enjoy matar kulcha, a delicious street food delicacy. The pea soup with ginger served on this warm, oven-baked bread constitutes a symphony of tastes. The kulcha's warmth balances the hotness of the peas creating a full and tasty product true to the spirit of Delhi's street fare.
Omaxe Chowk – The Best Place for Delhi Ka Famous Food:
Omaxe Chowk offers The largest food court in India. It is in the centre of Chandni Chowk, Delhi. This place captures the essence of Delhi's cuisine. This is where food stalls exhibit a splash of the colours associated with the tasty food of Chandni Chowk. This place is a must for every food lover.
Omaxe Chowk is more than just a food court. It is a salute to Delhi's famous food. The place is a celebration of cuisine and an appreciation of its rich history. Omaxe Chowk has everything when it comes to Delhi street food.
This is a place for people who want to immerse themselves in deliciousness by eating delicacies that have no equal on this planet in terms of what they are made from or how delectable each one tastes.
Conclusion:
Delhi's street food is more than a meal. It is an explosion of flavour diversity and cultural gastronomy. Tasting what Chandni Chowk is famous for, such as Omaxe Chowk, is like eating a piece of India's past. Every mouthful tells a story about Delhi's popular "food on foot", including Chole Bhature and Jalebi, among other delights.
Therefore, go on this gastronomic journey, enjoying every meal that constitutes "Delhi ka famous food" and becoming part of a unique street food adventure.