Delhi, the capital of India, is a city that skillfully combines its illustrious past with cutting-edge modernity. Chandni Chowk, a busy market that has been a crucial part of Delhi's cultural fabric for generations, is one of its most recognisable and dynamic neighbourhoods. A modern jewel called Omaxe Chandni Chowk is just waiting to be discovered amid the vivid turmoil and loudness of Chandni Chowk. This contemporary business complex combines the finest of contemporary conveniences with classic elegance, making it a popular tourist and local attraction.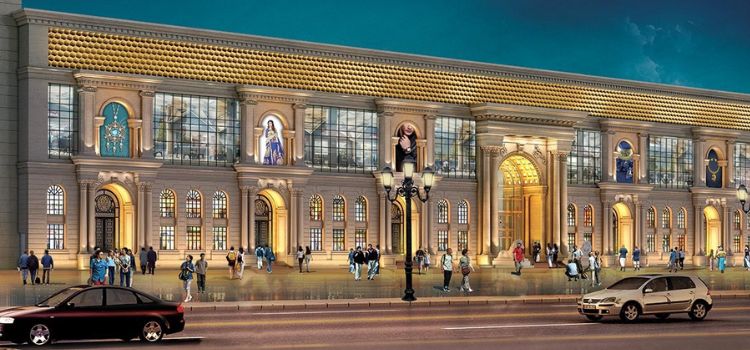 Introducing Omaxe Chowk
Omaxe Chandni Chowk embodies Delhi in all its radiance. This commercial complex is a real expression of the city's shifting character thanks to its tasteful fusion of heritage and contemporary. Omaxe Chandni Chowk provides an amazing trip that highlights the allure of both the past and the present, whether you are a resident searching for a distinctive shopping and dining experience or a tourist wanting to immerse yourself in Delhi's cultural essence. Discover the beauty that resides within these busy streets by visiting this famous location.
Omaxe Chandni Chowk – A Glimpse of Modernity
In the centre of Old Delhi, close to the storied Red Fort, lies Omaxe Chandni Chowk, an ambitious project by the famous Omaxe Group. This work of art is an architectural masterpiece that perfectly combines history and contemporary and was created to complement the local historical charm. You are welcomed by a variety of modern stores, exquisite showrooms, and entertainment centres as soon as you enter this energetic complex, providing guests with a great shopping experience.
The Omaxe Food Court: A Gourmet Haven
The amazing food court at Omaxe Chandni Chowk, which satisfies all culinary cravings, is one of the area's attractions. The food court offers a wide variety of tasty foods, from mouth watering street food to delicious international cuisines. You may enjoy the scrumptious treats while taking in the atmosphere, which has a modern twist on a classic market.
Go on a shopping spree
Omaxe Chandni Chowk is nothing short of a delight for shoppers. The complex is home to several stores and showrooms that sell a wide variety of goods. Omaxe Chandni Chowk is a one-stop store for all of your shopping requirements, offering everything from conventional textiles and jewellery to modern clothing and technology. Shopping here is a memorable experience because to the harmonious fusion of traditional charm and contemporary retail experiences.
A Tourist Attraction in Chandni Chowk
Even though Chandni Chowk is a well-known tourist destination in Delhi, Omaxe Chandni Chowk gives the neighbourhood a fresh appeal. It attracts residents and tourists looking for a modern retail experience in the middle of a historical environment thanks to its modern conveniences and stylish architectural style. Travellers may experience the best of both worlds as they stroll through Chandni Chowk's picturesque alleyways and luxuriate in Omaxe's contemporary luxuries.
Perfect Family Outing
Omaxe Chandni Chowk is familiar with this emotion as Delhi is recognised for its family-centred culture. The facility is designed for families and offers a fun and secure environment for people of all ages. There is something for everyone at Omaxe, from browsing traditional artefacts to sampling international cuisines. Families have the chance to connect via a shared interest in shopping, culture, and history.
A Contemporary Social Hub
Omaxe Chandni Chowk is more than simply a shopping centre; it also serves as a social centre for a variety of activities and events. There is always something occurring here to interest and amuse the tourists, from cultural events and art exhibitions to entertainment shows.
A Souvenir of Memories
Visiting Omaxe Chandni Chowk is about making memories rather than merely indulging in retail therapy or delving into delicious meals. The lively atmosphere, the harmonious fusion of heritage and contemporary, and the memories made with loved ones make for priceless treasures to bring back.
Conclusion
An example of Delhi's dynamic energy, where the ancient and the new live together, is Omaxe Chandni Chowk. Immerse yourself in Chandni Chowk's rich history as you meander through its halls and accept the modernism that Omaxe provides to this well-known spot. Omaxe Chandni Chowk offers a memorable adventure that will leave you fascinated and itching to go back, whether you're a local searching for a distinctive shopping experience or a tourist wanting to discover the soul of Delhi.
As a result, the next time you schedule a trip to Delhi, be sure to add a stop to Omaxe Chandni Chowk. Discover its charm, savour its flavours, and bring lifelong memories home.